---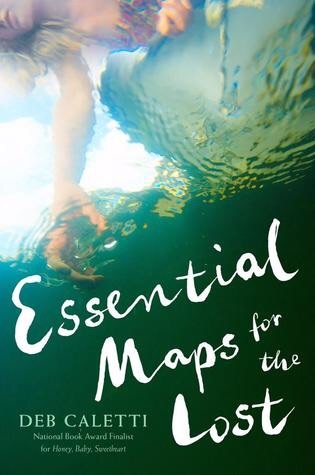 Essential Maps for the Lost
Author:
Deb Caletti
Reading Level: Young Adult
Genre: Contemporary
Released: April 5, 2016
Review Source: Simon Pulse
There are many ways to be lost.

Sometimes people want to be lost. Madison—Mads to everyone who knows her—is trying her best to escape herself during one last summer away from a mother who needs more from her than she can give, and from a future that has been decided by everyone but her.

Sometimes the lost do the unimaginable, like the woman, the body, Mads collides with in the middle of the water on a traumatic morning that changes everything.

And sometimes the lost are the ones left behind, like the son of the woman in the water, Billy Youngwolf Floyd. Billy is struggling to find his way through each day in the shadow of grief. His one comfort is the map he carries in his pocket, out of his favorite book, From the Mixed-Up Files of Mrs. Basil E. Frankweiler.

When three lives (and one special, shared book) collide, strange things happen. Things like questions and coincidences and secrets—lots of secrets. Things like falling in love. But can two lost people telling so many lies find their way through tragedy to each other…and to solid ground?
Madison, or Mads, is struggling to be herself and not someone she's expected to be. While away from her mother, she is staying with family in Seattle. During one of her morning swims she finds herself bumping into a dead body. YES. That was as creepy as it sounds. And it isn't an incident Mads can shake off. Honestly, who could? So she decides she wants to learn everything there is to know about the dead woman. This leads her to Billy, the woman's son...
Deb Caletti's writing immediately captivated me, and now I'm calling myself a fool for not picking up her work earlier. Although hard to get into the story at first, Caletti's writing was definitely interesting enough to keep me going. In Essential Maps for the Lost we get inside both Mads and Billy's thoughts. I loved Billy. Mads is hard to swallow in the beginning but she's not too bad once her and Billy meet.
This story really gets deep. Down and dirty with the elements of finding yourself and the issues and process of grief. This is going to sound cheesy but both Mads and Billy were "lost" until they found each other. Both were/are dealing with issues they need to get through and Caletti does a great job with description. You can almost feel and see the book go from gloomy to streaks of light peeking in.
Essential Maps for the Lost is an awesome contemporary YA read that dives into deeper trenches than most other books. Definitely give this one a read!