---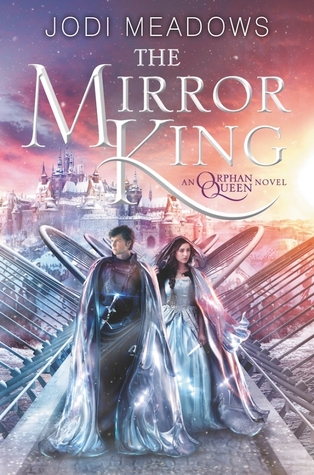 The Mirror King
The Orphan Queen #2
Author:
Jodi Meadows
Reading Level: Young Adult
Genre: Fantasy
Released: April 5 2016
Review Source: Katherine Tegen Books
Wilhelmina has a hundred enemies.

HER FRIENDS HAVE TURNED. After her identity is revealed during the Inundation, Princess Wilhelmina is kept prisoner by the Indigo Kingdom, with the Ospreys lost somewhere in the devastated city. When the Ospreys' leader emerges at the worst possible moment, leaving Wil's biggest ally on his deathbed, she must become Black Knife to set things right.

HER MAGIC IS UNCONTROLLABLE. Wil's power is to animate, not to give true life, but in the wraithland she commanded a cloud of wraith mist to save herself, and later ordered it solid. Now there is a living boy made of wraith—destructive and deadly, and willing to do anything for her.

HER HEART IS TORN. Though she's ready for her crown, declaring herself queen means war. Caught between what she wants and what is right, Wilhelmina realizes the throne might not even matter. Everyone thought the wraith was years off, but already it's destroying Indigo Kingdom villages. If she can't protect both kingdoms, soon there won't be a land to rule.

In this stunning conclusion to THE ORPHAN QUEEN, Jodi Meadows follows Wilhelmina's breathtaking and brave journey from orphaned criminal on the streets to magic-wielding queen.
Wilhelmina is being held prisoner at the Indigo Kingdom, and therefore she has to become Black Knife to set things right. With the wraith on its way and the Osprey's leader making assassination attempts on the kingdom's heirs she has to set things right. Her powers are far stronger than she was prepared for, and because of that she now has a wraith boy who follows her every command.
I enjoyed this story. I was intrigued by Wilhelmina's powers. It was more fun for me to read about her powers in this book. Especially with the wraith boy. She must learn to trust him but is worried because she doesn't quite believe that she is what made him animated. Learning to deal with the fact that she animated him is what gripped me in the first few chapters.
I love her relationship with Tobiah now as well. Knowing who they both are and knowing what they have to do for their kingdom's makes everything a little more interesting for their relationship. She's the kind of girl who will run and go do things for herself, whereas Tobiah was taught to do things for his kingdom.
I feel that the story was a bit slow going to get into for my liking. Apparently with stories like this I want there to be a ton of action all the time. So that was mainly my only problem with this, there were times when there was a ton of action, but then times when it would slow down too much for my liking.
Other than that it was an enjoyable book.