---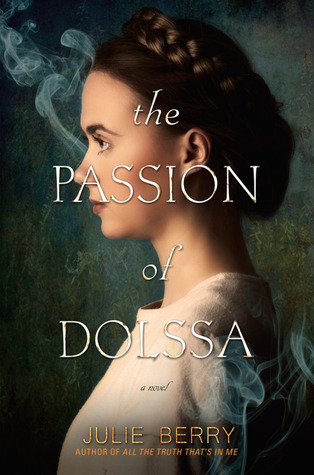 The Passion of Dolssa
Author: Julie Berry
Reading Level: Young Adult
Genre: Historical Fiction
Release Date: April 12th 2016
Review Source: Viking Books for Young Readers
I must write this account, and when I have finished, I will burn it.

Buried deep within the archives of a convent in medieval France is an untold story of love, loss, and wonder and the two girls at the heart of it all.

Dolssa is an upper-crust city girl with a secret lover and an uncanny gift. Branded a heretic, she's on the run from the friar who condemned her mother to death by fire, and wants Dolssa executed, too.

Botille is a matchmaker and a tavern-keeper, struggling to keep herself and her sisters on the right side of the law in their seaside town of Bajas.

When their lives collide by a dark riverside, Botille rescues a dying Dolssa and conceals her in the tavern, where an unlikely friendship blooms. Aided by her sisters and Symo, her surly but loyal neighbor, Botille nurses Dolssa back to health and hides her from her pursuers. But all of Botille's tricks, tales, and cleverness can't protect them forever, and when the full wrath of the Church bears down upon Bajas, Dolssa's passion and Botille's good intentions could destroy the entire village.

From the author of the award-winning All the Truth That's in Me comes a spellbinding thriller that will keep you on the edge of your seat until the final page and make you wonder if miracles really are possible.
I picked up an ARC of Julie Berry's All The Truth That's In Me during my very first BEA. I can clearly remember being so intrigued by the synopsis' little did I know that book would turn out to be the best book I read in 2013. From that moment on I knew that Berry would become an auto-buy author for me. When I first heard about The Passion of I was beyond ecstatic not only was I getting a new Berry story, but the history nerd in me was jumping in delight. Medieval France? Count me in!
I'm still coming to terms with how I felt about the book. It's a bit longer than I think it should be and it is targeted towards young adults, but the subject matter is a bit older than what I think some of the younger crowds would be interested in. That being said I thoroughly enjoyed it, but wasn't expecting it to be driven so much by my beliefs. It's hard to go into the actual story without spoiling you, but one thing I did like was that we got different accounts of what was going on during the entire story. It helped me get a better sense of all the different characters and what was going on at the time.
One thing that can be said for sure is that Berry's writing is truly unique. It's hard to describe how easily I can picture everything she's describing as if it's all happening in real life. I was in the middle of the park getting lost in the story that I didn't even realize three hours had gone by! When an author can do that, you know it must be a good book. Side note: Back to me being a history nerd-- I absolutely loved the fact that Berry included many of the historical notes, Old Provencal and Latin words and additional resources in the back. I love getting to see all (or most) of the research authors go and it's always good to include something educational.