---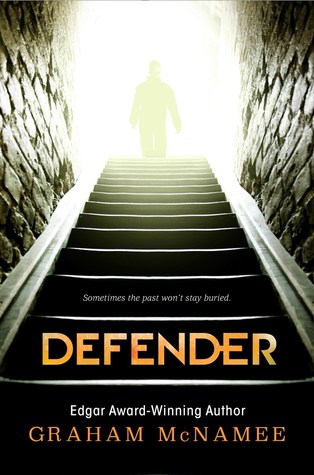 Defender
Author: Graham McNamee
Reading Level: Young Adult
Genre: Mystery
Released: April 12th 2016
Review Source: Wendy Lamb Books
They call her Tiny, but Tyne Greer is six foot six, a high school basketball star who is hoping the game will be her ticket out of the slum. She lives in a run-down building called The Zoo, where her father is the superintendent. One day she discovers a crack in the wall of an abandoned basement room. And sealed up in the wall is a girl's body. Horrified, she runs to get her dad. But after he goes to take a look, he comes back and tells Tyne that nothing's there. No girl. No body. He tells her she must be seeing things in the dark.

Tyne is sure it was real, though, and when she finds evidence that the body was moved from the hole in the wall, she knows the only one who could have done it is her father. But why? What is he hiding?

Tyne's search for answers uncovers a conspiracy of secrets and lies in her family. The closer she gets to the truth, the more dangerous it becomes for her. Because some will do anything to bury the past…and keep her silent.
Defender will have you reading through to the very end in no time. This short 240 page book is well written, with easy transitions and a mystery that has you searching for clues alongside the characters.
Tyne Greer, aka Tiny, is six foot six, helps her dad maintain the building they live in and is in love with shooting hoops for her high school team. Stick is her long-time-friend-turned-into-boyfriend who is her ride or die and provides comic relief.
When Tyne comes across a dead girl's body, and the only two people who have been in the room where her father and herself, she has to really think about if she knows who her father truly is. Did he kill this girl? And when confronted, why did he lie? Why would he do that to a girl? Who was that girl? I can't blame Tyne for freaking out and avoiding her dad for a couple weeks. While she was avoiding him, she was busy looking for clues with Stick. Ultimately, everything comes to light, and as they say, you may think you want to know the answer to something, but some things are better left unanswered.
Defender covers a little of everything. From sports highlights, to mystery to family drama. Let's just stay there is a lot going for a short story. There is physical abuse, drugs as well as violence, so I wouldn't recommend this to the younger crowd. However, if you're 16 and up, I recommend that you pick this book and read it. It will keep you on your toes.