---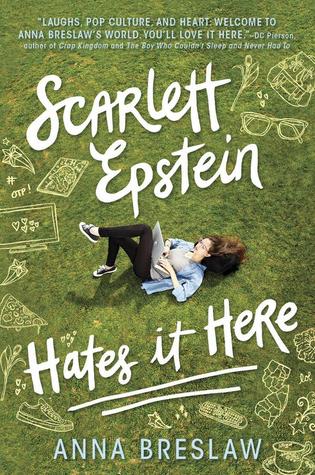 Scarlett Epstein Hates It Here
Author: Anna Breslaw
Reading Level: Young Adult
Genre: Contemporary
Released: April 19th 201
Review Source: Razorbill
Meet Scarlett Epstein, BNF (Big Name Fan) in her online community of fanfiction writers, world-class nobody at Melville High. Her best (read: only) IRL friends are Avery, a painfully shy and annoyingly attractive bookworm, and Ruth, her pot-smoking, possibly insane seventy-three-year-old neighbor.

When Scarlett's beloved TV show is canceled and her longtime crush, Gideon, is sucked out of her orbit and into the dark and distant world of Populars, Scarlett turns to the fanfic message boards for comfort. This time, though, her subjects aren't the swoon-worthy stars of her fave series—they're the real-life kids from her high school. Scarlett never considers what might happen if they were to find out what she truly thinks about them...until a dramatic series of events exposes a very different reality than Scarlett's stories, forever transforming her approach to relationships—both online and off.
Sometimes I force myself to read something only to realize by the end of the book that I wish it had never ended because it was so good! Scarlett Epstein Hates it Here is one of those books. By the title and the description on the back, I was hesitant to really throw myself into it, but four and a half hours, a ball of tissues next to me, and a set of puffy eyes later, I was totally in love with this book.
Scarlett Epstein, the main protagonist in the novel, is an avid lover of blogging about her all-time favorite show and is, understandably, thrown into despair when it is announced that the show is being cancelled and there will be no more new episodes. This despair causes a series of events that pretty much make up what the book is about so I won't mention the specifics for fear of spoiling something. But this book was incredible! Scarlett has a quick and witty minds and she knows it. In fact half the time she's using that quick wit to hide behind. I found myself laughing out loud many times and that I could relate a lot to the way she sees the world and people. She has a blind judgement of people, which prevents her from seeing people for who they are and instead as who she thinks they are or should be. Her character development was a good one to see because by the end of the book, she figures it all out. Okay, maybe not all of it, who really has their life figured out completely at 17 anyway, but she starts heading in the right direction.
At times I felt like the book was either too slow or too fast paced, but then it would even itself out. Scarlett uses writing as a way to deal with her daily life and so she ends up writing about people she knows into fictional characters for her blog and everyone loves it, except the people the stories are based on. A lot of things fall on Scarlett at once, from issues with her dad, a death she didn't see coming, and dealing with her ex-best-friend-possible-now-popular-jerk-but-also-maybe-not-totally Gideon, she cracks. The curtain she had up for so long falls and she doesn't know if she can get back up. There's a whole cast of other characters that make up this book. They are all important in one way or another, from Scarlett's best friend Avery, to her old weed-smoking neighbor who she adores, Ruth, to her mom and dad and least person she likes, Ashley, they all play some role in helping (whether they know it or not) in helping Scarlett discover who she really is.
I leave you with one of my favorite quotes from this book, "You should take advantage of your youth while you've got it. Drink some whiskey. Spend some time with boys… You're seventeen. By the time you're twenty-one, they'll expect you to be a real person…"