---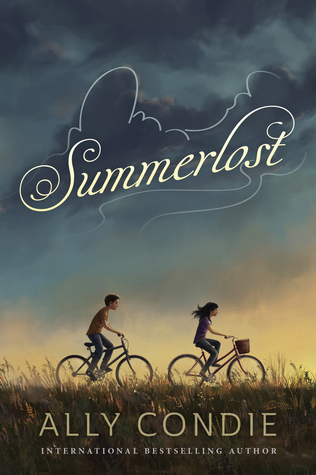 Summerlost
Author:
Ally Condie
Reading Level: Middle Grade
Genre: Contemporary
Released: March 26th 2016
Review Source: Dutton Books for Young Readers
It's the first real summer since the devastating accident that killed Cedar's father and younger brother, Ben. But now Cedar and what's left of her family are returning to the town of Iron Creek for the summer. They're just settling into their new house when a boy named Leo, dressed in costume, rides by on his bike. Intrigued, Cedar follows him to the renowned Summerlost theatre festival. Soon, she not only has a new friend in Leo and a job working concessions at the festival, she finds herself surrounded by mystery. The mystery of the tragic, too-short life of the Hollywood actress who haunts the halls of Summerlost. And the mystery of the strange gifts that keep appearing for Cedar.

Infused with emotion and rich with understanding, Summerlost is the touching middle grade debut from Ally Condie, the international bestselling author of the Matched series, that highlights the strength of family and personal resilience in the face of tragedy.
When I initially picked up
Summerlost
, I had NO clue that it was a middle grade book. I'm a girl who likes to dive into books blind, so I don't read the excerpts, I clearly avoided looking that the two kids on the cover and just couldn't wait to finally read an Ally Condie book. So imagine me sitting there reading this, thinking "man I don't know if I just can't get into this book or if this should be targeted for a younger crowd." And low and behold I end up flipping to the back of the book and see that it's indeed a book intended for a younger age group. Once I finally got that in check I could read this book with no qualms and finished it within a sitting.
Cedar Lee's family was thrown off it's axis a year ago when her father and brother were killed in a car accident. After the rough year of loss and grief Cedar's mother buys a house in the town she grew up in, a little fixer upper, some change for the family. Then cue the weird boy in the weird clothes that rides by Cedar's new home for the summer, or as Cedar initially called him nerd-on-a-bike. Well nerd on a bike turns on to be Leo who has been working at the Summerlost festival, "the third biggest Shakespearean festival west of the Mississippi". And since Cedar took it upon herself to follow the unknown boy to the festival one day she was well on her way to a new friendship and a new job, at twelve, major props to Cedar.
Summerlost
was incredibly cute, the friendship forged between Cedar and Leo was something I crave while reading YA, the strictly platonic relationship between two people of the opposite sex. Then we had Cedar going through life after loss and her new reality, and knowing just because someone is not here physically with you doesn't mean they're not always around you.