---
Today we are thrilled that we have the honor of sharing an exclusive excerpt from the upcoming young adult release written by authors Michelle Andreani and Mindi Scott. Many of you are familiar with Mindi Scott's writing (
Freefall, Live Through This
and
Violent Ends
) before this new release, now Mindi has teamed up with her friend, debut author Michelle Andreani. Michelle has been in the publishing business for years, so the experience that both writers brought to the table, created the amazing novel that is
The Way Back to You
.
And yes, you read that right,
The Way Back to You
is Amazing. I have read it and couldn't stop gushing over how great it was. Look for our review Monday, April 25th.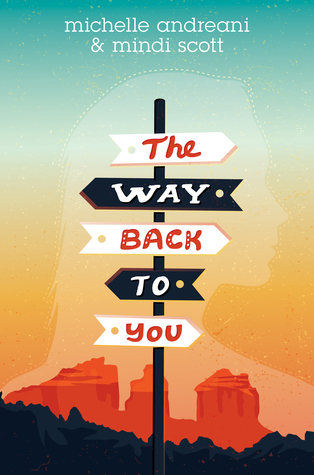 The Way Back to You
For fans of Jenny Han and Morgan Matson, a witty, poignant novel about second chances, letting go, and the unbreakable bonds of friendship.

Six months ago, Ashlyn Montiel died in a bike accident. Her best friend, Cloudy, is keeping it together, at least on the outside. Cloudy's insides are a different story: tangled, confused, heartbroken.

Kyle is falling apart, and everyone can tell. Ashlyn was his girlfriend, and when she died, a part of him went with her. Maybe the only part he cares about anymore.

As the two people who loved Ashlyn best, Cloudy and Kyle should be able to lean on each other. But after a terrible mistake last year, they're barely speaking. So when Cloudy discovers that Ashlyn's organs were donated after her death and the Montiel family has been in touch with three of the recipients, she does something a little bit crazy and a lot out of character: she steals the letters and convinces Kyle to go on a winter break road trip with her, from Oregon to California to Arizona to Nevada. Maybe if they see the recipients—the people whose lives were saved by Ashlyn's death—the world will open up again.

Or maybe it will be a huge mistake.
---
Exclusive Excerpt
I've just pressed send when I see him.
Even with his back to me, I can tell.
I really hate that I can tell.
And I hate the emotional lightning storm that immediately charges up in my body. Zap! Excitement. Zing! Dread. Sizzle! Full-body tingles. Singe! All-consuming guilt.
He's standing in front of a display at the end of an aisle, his hands in his pockets, the hood of his black coat coming up to meet the straight line of his short blond hair.
I can't help it: I flash back to him at the hospital, and there's a heaviness in my limbs. It was the day after the accident, and Ashlyn was still in a coma. All I wanted was to be there when she woke up. But my car had stalled on the ride over, and I was beyond stressed because it was time wasted, less time for me to be with her. Kyle was already there, though, near the waiting room. His stance was exactly the same as it is now, with his hands in his pockets, except then he was staring at a vending machine. He stood there longer than the hospital's snack selection was worthy of: old, crappy chips versus older, crappier candy bars. So part of me wondered if he was even hungry. There were a lot of blank stares all around then. I ended up blowing past Kyle and heading for the ICU. I doubt he even noticed.
I'm about to do the same now—pass behind him and go straight for what I'm really here for—but I stop when I see what has him so preoccupied. An entire wall full of bright, plushy cushions shaped like animals. Why the hell is Kyle shopping for a Pillow Pet?
At the pep rally, Matty was certain that Kyle wasn't backsliding. That he's okay. But a seventeen-year-old guy with no younger siblings, shopping in the stuffed animal department, seems definitively not okay. So the same part of me that needed to ask Matty about him two days ago needs to get closer—just to make sure he's not about to rip the heads off those pillows and wear them as hats.
He picks up a koala in one hand and a panda in the other. He's deliberating.
"Kyle." His name slips out before I can wrangle it back.
He startles, straightening up as he whips around to face me. I'm instantly aware of my messy hair and salt-caked snow boots. "Cloudy. Hey." His fingers tighten on the koala, his voice a low, thundery rumble. "What's going on?"
Crack! Heat.
"Here with my sister. How about you?" I peek at the shelf behind him. "Redecorating?"
"Um," he says, following my glance. "Not exactly. Just looking, I guess."
Then his eyebrows do the Thing. The Thing where they kind of slope up in a slant, like he's contemplating something too big, and it makes me want to smooth them flat. The Thing has done bad things to my insides since he walked into my biology class sophomore year.
---
Michelle Andreani and Mindi Scott are novelists from opposite coasts who met through an online Young Adult Writing class. For years, they critiqued each other's manuscripts, and then they wrote an entire book together—all while exchanging thousands and thousands (oh, and thousands) of emails, texts, and Tweets. Michelle lives in New York City, and The Way Back to You is her first novel. Mindi lives near Seattle, Washington, and her books are Freefall, Live Through This, Violent Ends, and The Way Back to You.
---
So now that you have read and LOVED the excerpt and have added
TWBTY
on Goodreads and pre-ordered it, all that is left is for you to enter this giveaway. Good Luck!!!