I am so excited that THE GLITTERING COURT by Richelle Mead releases today and that I get to share the news, along with a special giveaway!
If you haven't yet heard about this wonderful book by Author Richelle Mead, be sure to check out all the details below.
This blitz also includes a giveaway for a signed copy of the book and a $25 Sephora Gift Card courtesy of Richelle, Penguin Teen, and Rockstar Book Tours. So if you'd like a chance to win, enter in the Rafflecopter at the bottom of this post.
---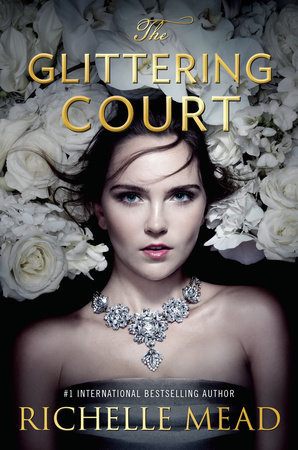 The Glittering Court
The Glittering Court #1
Author: Richelle Mead
Reading Level: Young Adult
Genre: Contemporary
Released: April 5th 2016
Publisher: Razorbill
A dazzling new fantasy series set in a mix of Elizabethan and frontier worlds that's dripping with romance from Richelle Mead, #1 internationally bestselling author of Vampire Academy.

Big and sweeping, spanning the refined palaces of Osfrid to the gold dust and untamed forests of Adoria, The Glittering Court tells the story of Adelaide, an Osfridian countess who poses as her servant to escape an arranged marriage and start a new life in Adoria, the New World. But to do that, she must join the Glittering Court.

Both a school and a business venture, the Glittering Court is designed to transform impoverished girls into upper-class ladies capable of arranging powerful and wealthy marriages in the New World. Adelaide naturally excels in her training and even makes a few friends: the fiery former laundress Tamsin and the beautiful Sirminican refugee Mira. She manages to keep her true identity hidden from all but one: the intriguing Cedric Thorn, son of the wealthy proprietor of the Glittering Court.

When Adelaide discovers that Cedric is hiding a dangerous secret of his own, together, they hatch a scheme to make the best of Adelaide's deception. Complications soon arise—first, as they cross the treacherous seas from Osfrid to Adoria, and later, when Adelaide catches the attention of a powerful governor.

But no complication will prove quite as daunting as the potent attraction simmering between Adelaide and Cedric. An attraction that, if acted on, would scandalize the Glittering Court and make them both outcasts in wild, vastly uncharted lands. . . .
---
Richelle Mead has written over twenty-five novels for teens and adults. She is the author of the international #1 bestselling Vampire Academy series and its spinoff series, Bloodlines. Her recent standalone novel, Soundless, draws upon Chinese mythology and history, and her forthcoming series, The Glittering Court, follows the adventures of girls destined for arranged marriages in a fantasy world inspired by colonial America. A lifelong reader, Richelle has always had a particular fascination with mythology and folklore. When she can actually tear herself away from books (either reading or writing them), she enjoys bad reality TV, traveling, trying interesting cocktails, and shopping for dresses to wear on tour. She is a self-professed coffee addict, works in her pajamas, and has a passion for all things wacky and humorous. Originally from Michigan, Richelle now lives in Seattle, Washington, where she is hard at work on her next novel.
1 winner will receive a hardcover of THE GLITTERING COURT & a $25 Sephora Gift Card. US Only.
Ends on April 15th at Midnight EST!
a Rafflecopter giveaway