Welcome to our stop on
The Crown's Game
tour for Evelyn Skye. This tour is hosted by
Rockstar Book Tour.
---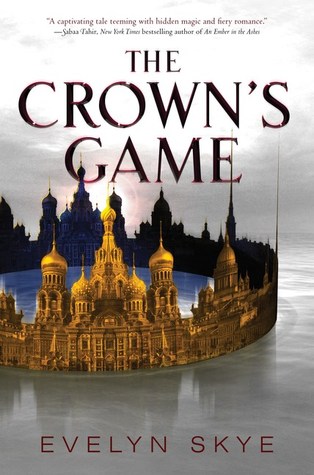 The Crown's Game
Author: Evelyn Skye
Reading Level: Young Adult
Genres: Fantasy
Release Date: May 17th 2016
Publisher: Balzer + Bray
Vika Andreyeva can summon the snow and turn ash into gold. Nikolai Karimov can see through walls and conjure bridges out of thin air. They are enchanters—the only two in Russia—and with the Ottoman Empire and the Kazakhs threatening, the Tsar needs a powerful enchanter by his side.

And so he initiates the Crown's Game, an ancient duel of magical skill—the greatest test an enchanter will ever know. The victor becomes the Imperial Enchanter and the Tsar's most respected adviser. The defeated is sentenced to death.

Raised on tiny Ovchinin Island her whole life, Vika is eager for the chance to show off her talent in the grand capital of Saint Petersburg. But can she kill another enchanter—even when his magic calls to her like nothing else ever has?

For Nikolai, an orphan, the Crown's Game is the chance of a lifetime. But his deadly opponent is a force to be reckoned with—beautiful, whip smart, imaginative—and he can't stop thinking about her.

And when Pasha, Nikolai's best friend and heir to the throne, also starts to fall for the mysterious enchantress, Nikolai must defeat the girl they both love... or be killed himself.

As long-buried secrets emerge, threatening the future of the empire, it becomes dangerously clear... the Crown's Game is not one to lose.
Evelyn Skye's Favorite Russian (-Related)
Books and Movies
I am a total book nerd (obviously! I write them for a living!). I'm also a Russophile, which is why I chose to major in Russian literature & history when I was in college. But while my university days are far behind me now, I still have a special place in my heart for all those books I read, and I thought I'd share them (and a few movies, too), in case you want to delve into torturously beautiful Russia, as well.
My Favorite Russian Books:
CRIME AND PUNISHMENT by Fyodor Dostoevsky
THE MASTER AND MARGARITA by Mikhail Bulgakov
ANNA KARENINA by Leo Tolstoy
PETER THE FIRST by Alexei Tolstoy
SKETCHES FROM A HUNTER'S ALBUM by Ivan Turgenev
My Favorite Russian (-Related) Movies:
Man from U.N.C.L.E. (starring Henry Cavill and Armie Hammer)
Anna Karenina (starring Keira Knightley and Jude Law)
Est/Ouest (starring Oleg Menshikov, Sandrine Bonnaire, Catherine Deneuve, Sergey Bodrov Jr.)
Burnt by the Sun (starring Nikita Mikhalkov, Ingeborga Dapkunaite, Oleg Menshikov)
---
Evelyn Skye was once offered a job by the C.I.A., she not-so-secretly wishes she was on "So You Think You Can Dance," and if you challenge her to a pizza-eating contest, she guarantees she will win. When she isn't writing, Evelyn can be found chasing her daughter on the playground or sitting on the couch, immersed in a good book and eating way too many cookies.
THE CROWN'S GAME is her first novel. Evelyn can be found online at www.evelynskye.com and on Twitter @EvelynSkyeYA.
1 winner will receive a beautiful custom THE CROWN'S GAME necklace (similar to the one in the photo below) made by the lovely Tales of A Ravenous Reader, US Only.
FOLLOW THE TOUR!