Welcome to our stop on Everland tour for Wendy Spinale. This tour is hosted by
Rockstar Book Tour.
---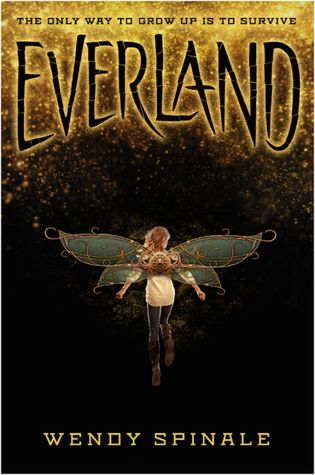 Everland
Author: Wendy Spinale
Reading Level: Young Adult
Genres: Fantasy
Release Date: May 10th 2016
Publisher: Scholastic Press
Forget the story of Peter Pan you know. Because in Everland, the only way to grow up is to survive.

London has been destroyed in a blitz of bombs and disease. The only ones who have survived are children, among them Gwen Darling and her siblings, Joanna and Mikey. They spend their nights scavenging and their days avoiding the ruthless Marauders -- the German Army led by Captain Hanz Otto Oswald Kretschmer.

Unsure if the virus has spread past England's borders but desperate to leave, Captain Hook hunts for a cure, which he thinks can be found in one of the survivors. He and his Marauders stalk the streets snatching children for experimentation. None ever return. Until the day they grab Joanna. As Gwen sets out to save her, she meets a mysterious boy named Pete. Pete offers the assistance of his gang of Lost Boys and the fierce sharpshooter Bella, who have all been living in a city hidden underground. But in a place where help has a steep price and every promise is bound by blood, it will cost Gwen. And are she, Pete, the Lost Boys, and Bella enough to outsmart Captain Hook?
EXCERPT
His face draws close to mine.
"You don't plan to march into the city and rescue your sister with a couple of dull daggers, do you?"
"I'll find another weapon on the way." I grab for my pack, but he brushes my hand aside.
"Do you really believe you and your kid brother can get her back all by yourself? It's only a matter of time before you're caught, too." Pete hands me my bag. "Most survivors have learned the two rules to staying alive. Number one: Don't leave behind a footprint. Bella and I stick to the rooftops. Others, those that are skilled with weapons and can run fast . . ."
"And have stomachs of steel," Bella interjects, wrinkling her nose.
"Those Scavengers utilize the sewage systems," Pete finishes.
"There are other people?" Mikey asks, tugging on Pete's coattail.
"Of course there are others," Bella says with exasperation in her voice. "Lots of them. All kids, obviously. You don't think the four of us are the only ones left in England, do you?"
"Where are the other kids?" Mikey asks, his expression wild with curiosity.
Pete beckons us to the window. Mikey follows and, with reluctance, I join them. In the distance, the crumbledbuildings of Everland rise toward the sky like steel, concrete, and brick tombstones. The navy blue hues of night have faded into lavender as the sun on the horizon chases away what is left of the evening stars. Only two twinkling points remain. He points to the west.
"Second to the right," he says. "Just below it."
"You're telling me there are children hiding in Everland?" I ask in disbelief.
Copyright © 2016 by Wendy Spinale
All rights reserved. Published by Scholastic Press, an imprint of Scholastic Inc., Publishers since 1920. scholastic, scholastic press, and associated logos are trademarks and/or registered trademarks of Scholastic Inc.
---
I must admit, I have lived an extraordinary life and will forever be grateful for the opportunities I have had.
I was the middle of three kids, my older brother being deaf for as far back as I can remember. At the time, I didn't realize how much that would later impact my life. I was a sign language interpreter for a short time (although I'm extremely rusty now), taught my kids to sign as infants, and now am using that experience in my current manuscript.
During college I was living in southern California working for Disneyland as a Cast Member in the Entertainment Department. I met my husband there who was also a performer. After four incredible years working with the Mouse, we moved to his hometown in the Bay Area.
I eventually got my Bachelor's in Kinesiology and worked in the fitness industry for ten years before a knee injury ended my career. Not sure what to do with my time, I applied to job posting to be an online journalist. I loved writing, but had no experience. I didn't hear back so I wrote up a review about a local restaurant and sent it to them to prove I could do the job. Twenty-four hours later, I was a journalist with AOL Media/Pleasanton Patch.
I spent three great years with them before cut backs forced me without a job again. That's when I started writing my first novel, which went nowhere. Dozens of rejection letters later. I started a second book. A year later I was offered representation by Thao Le from Sandra Dijkstra Literary Agency and within another six months I was offered a book deal. EVERLAND (Scholastic) is scheduled to debut Summer of 2016!
Today I live in the Bay Area with my husband and three sons who are my biggest fans. While they're off at work and school, I bounce ideas off my four-legged, furry family members, Odie and Sammy.
3 winners will receive a finished copy of EVERLAND, US Only.
a Rafflecopter giveaway
FOLLOW THE TOUR!