I'm honored to be part of The Problem with Forever review tour for author Jennifer L. Armentrout! Make sure to enter the epic giveaway below!
---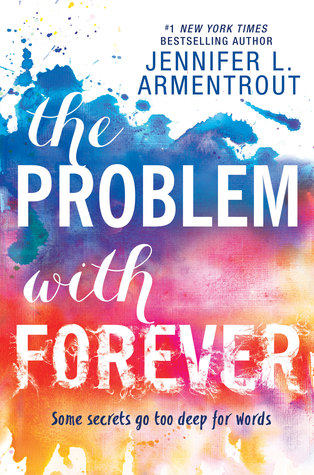 The
Problem
with
Forever
Author: Jennifer L. Armentrout
Reading Level: Young Adult
Genre: Contemporary Romance
Released: May 17th 2016
Publisher: Harlequin Teen
For some people, silence is a weapon. For Mallory "Mouse" Dodge, it's a shield. Growing up, she learned that the best way to survive was to say nothing. And even though it's been four years since her nightmare ended, she's beginning to worry that the fear that holds her back will last a lifetime.

Now, after years of homeschooling with loving adoptive parents, Mallory must face a new milestone—spending her senior year at public high school. But of all the terrifying and exhilarating scenarios she's imagined, there's one she never dreamed of—that she'd run into Rider Stark, the friend and protector she hasn't seen since childhood, on her very first day.

It doesn't take long for Mallory to realize that the connection she shared with Rider never really faded. Yet the deeper their bond grows, the more it becomes apparent that she's not the only one grappling with the lingering scars from the past. And as she watches Rider's life spiral out of control, Mallory faces a choice between staying silent and speaking out—for the people she loves, the life she wants, and the truths that need to be heard.
Ever since I was a child and even now, I've suffered from anxiety. When I am put on spotlight or need to present at a meeting, I am completely freaking out. I start to sweat, my throat start to burn and close and I cannot say the correct words. It's embarrassing at times and I just try to do my best. Thankfully, I've learn to control it, but there are time that I cannot. So while reading this book, I felt like it was personal. I loved how spot on the writing was. It was like having Jennifer do a study on me.
If by any chance you are not familiar with Jennifer Armentrout's writing, it is time that you come out of hiding place. Here are Once Upon a Twilight, we are HUGE fans of her work. So, when I opened the book, I knew this story will be making me shed tears but will leave me with a smile at the end. And yes, this is exactly what this book did. The Problem With Forever challenges the meaning of forever. As a child, Mallory had always depended on Rider, her knight in shining armor. He promised her to protect her forever (hence the title). But things didn't go as planned. Forever means many things but there is a problem with forever, and once again, Jennifer challenges this meaning. And trust me it will break you.
As mentioned, Mallory always depended on Rider. They grew up in the foster system and like many, their experience wasn't pretty. There is an event that separated them but fate brought them back together. And we will read how simple and kind actions can make a huge difference. And the cruel ones can damage a kid's life. As Mallory is trying to depend on Rider, she will be challenged and she will soon learn that even though it is good to have someone to depend on... One must learn how to spread their wings and fly on their own. The problem is, will she be willing to?
Mallory and Rider are cute together. Their connection was amazing and one can easily fall in love with them. Although you want them together, you are mainly concern with Mallory. You want to see her grow and learn how to control her anxiety. You want her to be better. Her progress is slow but eventually she will learn to do so. I loved seeing her proud of herself. I really enjoyed reading how she started to open up and learn that life is not about being perfect, but being yourself.
The Problem with Forever is far more than a contemporary romance, it's a lesson in life. A story that will make you cry here and there but at the end will bring a smile to your face. An honest story of the ugliness of our society yet it will also show you the beauty of human kindness. It's Mallory's journey to find strength and believing in herself. A lesson that forever isn't exactly ideal. That life is about risks and taking chances at every chance you get. So if you need a word of encouragement, then look no further more... Jennifer will leave an impact in your life with The Problem with Forever.
---
# 1 NEW YORK TIMES and USA TODAY Bestselling author Jennifer lives in Martinsburg, West Virginia. All the rumors you've heard about her state aren't true. When she's not hard at work writing she spends her time reading, working out, watching really bad zombie movies, pretending to write, and hanging out with her husband and her Jack Russell Loki.
Her dreams of becoming an author started in algebra class, where she spent most of her time writing short stories….which explains her dismal grades in math. Jennifer writes young adult paranormal, science fiction, fantasy, and contemporary romance. She is published with Spencer Hill Press, Entangled Teen and Brazen, Disney/Hyperion and Harlequin Teen. Her book Obsidian has been optioned for a major motion picture and her Covenant Series has been optioned for TV.
She also writes adult and New Adult romance under the name J. Lynn. She is published by Entangled Brazen and HarperCollins.
a Rafflecopter giveaway