---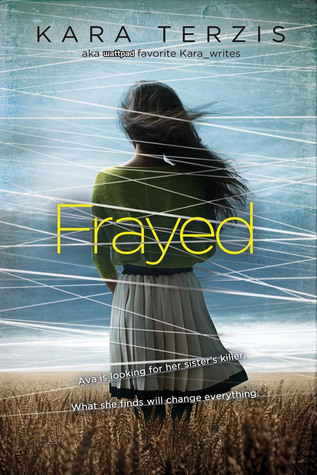 Frayed
Author:
Kara Terzis
Reading Level: Young Adult
Genre: Mystery | Thriller
Released: June 7th 2016
Review Source: Sourcebooks Fire
Dear Kesley,

My therapist tells me I should write you a letter. Like flushing all my thoughts and feelings out of my system and onto paper. I tell her it's a stupid idea.

But here I am, writing a letter to a dead girl. Where do I start? Where did our story begin? From the moment you were born...or died?

I'll start with the moment I found out the truth about you. Your lies and my pain. Because it always begins and ends with you.

And that end began when Rafe Lawrence came back to town...
Ava Hale will do anything to find her sister's killer...although she'll wish she hadn't. Because the harder Ava looks, the more secrets she uncovers about Kesley, and the more she begins to think that the girl she called sister was a liar. A sneak. A stranger.

And Kesley's murderer could be much closer than she thought...
It's around the month mark since Ava lost her sister, Kesley. Murdered, chocked to death and thrown in a river. Kesley was popular with an untarnished reputation...but for a girl who didn't do much wrong it was a violent way to die, almost as if somebody did have something against her. What if Had Kesley done something wrong?
The police aren't any further forward with finding Kesley's killer and Ava decides she has to do something about it. She needs to find out who killed her sister. Is it someone she knows? Maybe a random killing? Either way, Ava has to know what happened. No matter what.
On the road to discovering her sister's killer, there's also a lot of other discoveries. The painful truths of teenage relationships, living in the shadow of a dead person, and Rafe Lawrence. Before Kesley died, Rafe was her troubled best friend. After her death he's still troubled, grieving and very much so interested in Ava.
"Don't let what happened to Kesley change you." My fingers tightened on the doorknob. I didn't answer, but all I could think was: I think it already has.
My heart twitched with emotion the whole way through. This book shows that although everything looks nice and shiny on the outside things are in fact frayed on the inside. There was nothing in this book which turned out to be what I though it would be at first glance. I loved the shock, the surprise of not expecting of how things turned out. It was a thrilling journey.
The characters you see on the first few pages evolve so much when you compare them to the ending. If there's one thing I learned from Frayed it is not to just anybody by first impressions. Don't judge by second or third impressions either. And even if you do judge a person or think you know them, do you really?