---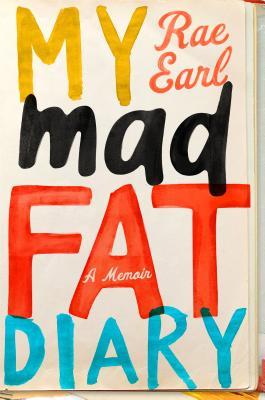 My Mad Fat Diary: A Memoir
Author: Rae Earl
Reading Level: Young Adult
Genre: Contemporary Romance
Released: April 19th 2016
Review Source: St. Martin's Griffin
It's 1989 and Rae Earl is a fat, boy-mad 17-year-old girl, living in Stamford, Lincolnshire with her mum and their deaf white cat in a council house with a mint green bathroom and a refrigerator Rae can't keep away from. She's also just been released from a psychiatric ward. My Mad Fat Diary is the hilarious, harrowing and touching real-life diary Rae kept during that fateful year and the basis of the hit British television series of the same name now coming to HULU. Surrounded by people like her constantly dieting mum, her beautiful frenemy Bethany, her mates from the private school up the road (called "Haddock", "Battered Sausage" and "Fig") and the handsome, unattainable boys Rae pines after (who sometimes end up with Bethany…), My Mad Fat Diary is the story of an overweight young woman just hoping to be loved at a time when slim pop singers ruled the charts. Rae's chronicle of her world will strike a chord with anyone who's ever been a confused, lonely teenager clashing with her parents, sometimes overeating, hating her body, always taking herself VERY seriously, never knowing how positively brilliant she is and keeping a diary to record it all. My Mad Fat Diary – 365 days with one of the wisest and funniest girls in England.
My Mad Fat Diary was a book based on Rae Earl's real life diary. She was a 17 year old overweight, boy crazed teenager. Rae has just been released from a psychiatric hospital after having a nervous breakdown. The book is based in England during the late 80's. Along the way, we meet her mom, her "frenemies", and her love interests told from her point of view.
I liked this book but didn't love it, here are the reasons why: the biggest reason is, I felt bored and struggled to finish it. It didn't keep my attention. Due to the formatting being based on journal entries, there wasn't really anything exciting in my opinion, no real jaw dropping, climactic situations.
There are some positives about this book though. To start, I thought some of the dialogue and situations were hilarious. The author definitely has a sense of humor which I love. Also I feel the story is very relatable, with Rae being overweight struggling with insecurities. It certainly brought me back to some of my teenage memories. I also really loved the fact that there was a British slang glossary. I feel the author did a really good job explaining the British lingo. Without that, I might have been lost in translation a couple times.
All in all, I didn't love this story and I didn't hate it. It was a solid 3 stars for me. I do look forward to watching the episodes based on this book to see how close the shows are to the book.