---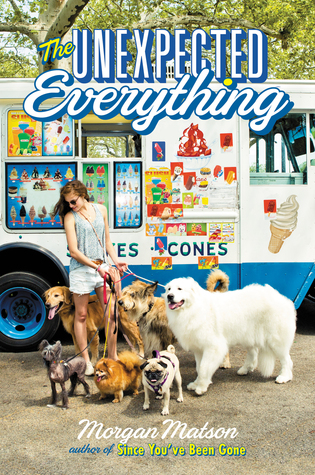 The Unexpected Everything
Author:
Morgan Matson
Reading Level: Young Adult
Genre: Contemporary
Released: May 3rd 2016
Review Source: Simon & Schuster
Andie had it all planned out.

When you are a politician's daughter who's pretty much raised yourself, you learn everything can be planned or spun, or both. Especially your future.

Important internship? Check.

Amazing friends? Check.

Guys? Check (as long as we're talking no more than three weeks)

But that was before the scandal. Before having to be in the same house with her dad. Before walking an insane number of dogs. That was before Clark and those few months that might change her whole life.

Because here's the thing - if everything's planned out, you can never find the unexpected.

And where's the fun in that?
The Unexpected Everything
was everything I expected from Morgan Matson, the perfect YA story. Sadly this is only my second read of Matson's, it definitely won't be my last, a forever fan has been installed inside me. When I read
Since You've Been Gone
a couple of years ago I honestly cried when I finished, it was beautiful, perfect, and definitely helped me with my 1,700 mile move. So when I saw The Unexpected Everything was coming up I told all the girls here at OUaT that I called dibs (hopefully they didn't mind), I couldn't wait to get my greedy hands on it. Unfortunately when that beautiful book came into my possession I was in the
WORST
book rut ever and happened to be moving so I just looked at it forlornly until I was going to be ready and somewhat unpacked (I didn't want to feel guilty for sitting for hours at a time). Boxes are unpacked, book rut is a thing of the past, and I have
The Unexpected Everything
to thank for that.
Andie is a planner. She has her summer planned out, her future mapped out, amazing friends, and a dating system that works for her. What Andie doesn't have planned out are the repercussions from a scandal involving her father. So now the summer is beginning and Andie has no internship and no clue what she's going to do. After realizing there is literally nothing left for her to do in the realm of internships Andie searches for help wanted ads, while she finds a few they all end up leading to dead ends, but it's a very nondescript ads that landed her walking dogs all summer. While not ideal or anything that'll help further her dreams of becoming a doctor, she does meet a very cute boy along the way, Clark, whom I have swooned over SO much the entire time. This summer is going to challenging for Andie, different, her plans are out the window, she has a new job, her dad is always around, her friends are actually all together for the summer and then there's Clark.
I seriously don't think I can even scratch the surface with the amount of love and admiration I have for
The Unexpected Everything
. Let's just start with everything beautiful inside, (obviously we know the cover is beautiful) first off the friendships, they're solid and strong, but like everything solid and strong storms around bound to weather the foundation. The relationship and lack thereof with Andie and her father and them getting back to their roots where they don't feel like they're walking on eggshells around each other. Andie's relationship with Clark, evolving her as person, getting her to read (to listen to books), opening her eyes. And then the dogs! Hello! Who doesn't love dogs?! Alright, some people don't, but c'mon at least they're cute to look at (most of the times).
Morgan Matson creates these beautifully real stories that touch your heart. Bringing you back to summer and being a teen, falling in and out of love, fighting and making up and family dynamics that are hard to maneuver. Everything seems so real and you're easily transported right there, walking the dogs with Andie, falling for Clark, building your relationship back with your dad, and having a blast with your friends. There will never be a time that I turn down reading a Matson book, Morgan is now forever an autobuy author.