---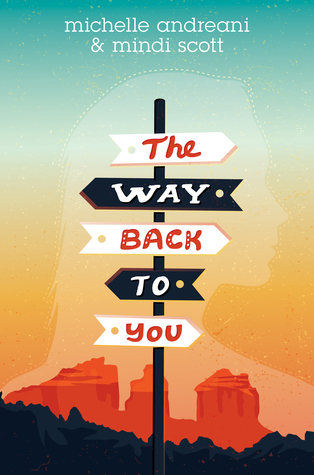 The Way Back To You
Author: Michelle Andreani & Mindi Scott
Reading Level: Young Adult
Genre: Contemporary
Released: May 3 2016
Review Source: Katherine Tegen Books
In this witty, heart-tugging novel, two teens take a spontaneous road trip across the Southwest to meet three strangers who received the life-saving organs of their late best friend—charting a journey of loss, hope, and love along the way.

Six months ago, Ashlyn Montiel died in a bike accident.

Her best friend Cloudy is keeping it together, at least on the outside. Cloudy's insides are a different story: tangled, confused, heartbroken.

Kyle is falling apart, and everyone can tell. Ashlyn was his girlfriend, and when she died, a part of him went with her. Maybe the only part he cares about anymore.

As the two people who loved Ashlyn best, Cloudy and Kyle should be able to lean on each other. But after a terrible mistake last year, they're barely speaking. So when Cloudy discovers that Ashlyn's organs were donated after her death and the Montiel family has been in touch with three of the recipients, she does something a little bit crazy and a lot of out character: she steals the letters and convinces Kyle to go on a winter break road trip with her, from Oregon to California to Arizona to Nevada. Maybe if they see the recipients—the people whose lives were saved by Ashlyn's death—the world will open up again. Or maybe it will be a huge mistake.

With hundreds of miles in front of them, a stowaway kitten, and a list of people who are alive because of Ashlyn, Cloudy and Kyle just may find their way to back to her...and to each other.
When Cloudy's best friend passes away it's like her whole life has been shifted. She doesn't want to let it affect her in that way, but there's no other way to get on with life. Instead of dealing with the death she pushes it to the back of her mind and pretends that everything is okay. Kyle was her boyfriend. For him his whole life stopped. He had envisioned a long time relationship with Ashlyn and wasn't prepared for the devastation to come. Cloudy wants to help Kyle, and unknowingly help herself too. They go on a road trip to find the recipients of Ashlyn's organs. On the way there past secrets get dug up, and there's no turning back.
This is a cute road trip book. It has its moments of sadness, it also has its "swoony" moments, and it has its moments of happiness. I put swoony in quotes because while they're swoony you're unsure if you want it to be a swoony moment. For me it was a no-brainer: Kyle and Cloudy are suppose to be together. But then you feel awkward wanting the boyfriend and best friend of Ashlyn to get together. Then you wonder if it's morally wrong for them to get together. Then you're sitting there doubting what you want. It was difficult for me, but the story was adorable.
It is a great story to show that grieving is a natural process. And everyone does it in such a different way, there's no right way to grieve. Yet there are harmful ways to grieve - such as bottling it all up and pretending that everything is fine. While reading Cloudy's POV there are times when you want to stop the story to talk to her and let her know that it is natural to think about her best friend - and that honestly she should be thinking about her and talking to other people about her.
All of the characters are so lovable in this story. Matty is by far my favorite secondary character. He's hilarious and seems like the kind of guy that would be there for you no matter what. Even if he's upset he's still there. And I feel like we all want that one friend.
This book really made me want to just grab one of my friends and hit the road. Of course I feel like we would plan more than these two did, but it would still be fun nonetheless.