Waiting on Wednesday
"Waiting On Wednesday" is a weekly event, hosted by Breaking The Spine, that spotlights upcoming releases that we're eagerly anticipating.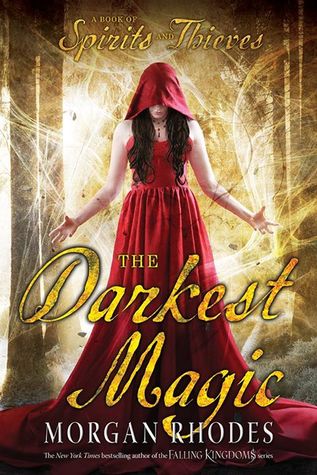 The Darkest Magic
Spirits and Thieves #2
Author: Morgan Rhodes
Release Date: June 28th 2016
Publisher: Razorbill
In the second installment of New York Times bestselling author Morgan Rhodes's highly acclaimed Falling Kingdoms spin-off series, danger looms and the mystery deepens as two warring evils vie for possession of one elusive, powerful book.

Modern-day Toronto: Sisters Crystal and Becca Hatcher are reunited after reclaiming the Bronze Codex and narrowly escaping death. They have no one to trust but each other, and the only thing keeping them safe is the book that sent Becca's spirit to Ancient Mytica--the same book that their enemies would kill them for.

Ancient Mytica: Maddox grapples to keep his newly discovered powers under control, while the ruthless goddess Valoria hunts him down.

Modern-day Toronto: Farrell embraces his dark side as he unwittingly falls further under the spell of Markus, the mastermind leader of the nefarious Hawkspear Society, who will stop at nothing to find Crys and Becca--and the remarkable book in their possession.

New York Times bestselling author Morgan Rhodes takes readers into exhilarating new high-fantasy territory with volume two of the Book of Spirits and Thieves series, an epic contemporary saga perfect for fans of Sarah J. Maas and Diana Gabaldon's Outlander.
---
The King Slayer
The Witch Hunter #2
Author: Virginia Boecker
Release Date: June 14th 2016
Publisher: Little, Brown Books for Young Readers
Magic, suspense, and political intrigue collide in this sequel to The Witch Hunter, perfect for fans of Graceling and the Grisha Trilogy.

Former witch hunter Elizabeth Grey is hiding within the magically protected village of Harrow, evading the price put on her head by Lord Blackwell, the usurper king of Anglia. Their last encounter left Blackwell ruined, but his thirst for power grows stronger every day. He's readying for a war against those who would resist his rule--namely Elizabeth and the witches, wizards, pirates, and healers she now calls her friends.

Having lost her stigma, a magical source of protection and healing, Elizabeth's strength is tested both physically and emotionally. War always means sacrifice, and as the lines between good and evil blur once more, Elizabeth must decide just how far she'll go to save those she loves.

In this sequel to The Witch Hunter, Virginia Boecker delivers a powerful story full of action, suspense, camaraderie, and romance.