twochicksonbooks
We are proud to announce to be one of the official Emberlings Ambassador. We are huge fans of the first novel so it is an honored to be selected!
In case you missed it,
PenguinTeen
released the first TWO chapters of A Torch Against the Night! And if you haven't read it yet, then it's time that you do! Don't forget to enter the super cool giveaway Penguin is currently hosting.
---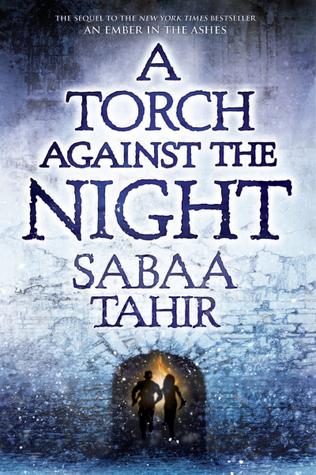 A
Torch
Against
the
Night
An Ember in the Ashes #2
Author: Sabaa Tahir
Reading Level: Young Adult
Genre: Fantasy
Released: August 30th 2016
Review Source: Razorbill
A Torch Against the Night takes readers into the heart of the Empire as Laia and Elias fight their way north to liberate Laia's brother from the horrors of Kauf Prison. Hunted by Empire soldiers, manipulated by the Commandant, and haunted by their pasts, Laia and Elias must outfox their enemies and confront the treacherousness of their own hearts.

In the city of Serra, Helene Aquilla finds herself bound to the will of the Empire's twisted new leader, Marcus. When her loyalty is questioned, Helene finds herself taking on a mission to prove herself—a mission that might destroy her, instead.
Excerpt from A Torch Against the Night by Sabaa Tahir
Chapter 1: Laia
How did they find us so fast?
Behind me, the catacombs echo with angry shouts and the screech of metal. My eyes dart to the grinning skulls lining the walls. I think I hear the voices of the dead.
Be swift, be fleet, they seem to hiss. Unless you wish to join our ranks.
"Faster, Laia," my guide says. His armor flashes as he hastens ahead of me through the catacombs. "We'll lose them if we're quick. I know an escape tunnel that leads out of the city. Once we're there, we're safe."
FOR MORE CLICK EW.COM
---
Three auxes and four legionnaires, fifteen yards behind us. As I race ahead, I whip my head around to gauge their progress. Make that six auxes, five legionnaires, and twelve yards.
More of the Empire's soldiers will pour into the catacombs with every second that passes. By now, a runner has carried the message to neighboring patrols, and the drums will spread the alert throughout Serra: Elias Veturius spotted in the tunnels. All squads respond. The soldiers don't need to be sure of my identity; they will hunt us down regardless.
I take a sharp left down a side tunnel, pulling Laia with me, my mind careening from thought to thought. Shake them off quickly, while you still can. Otherwise . . .
FOR MORE CLICK MASHABLE.COM
---
Spent my childhood in the Mojave Desert, where I didn't have cable and thus chose to entertain myself with books and radio. My parents assured me that I wanted to become a doctor, but a brief stint working in a hospital changed my mind.
I left the desert for university at 17, graduated from UCLA a few years later, and went to work for The Washington Post directly after. Five years later, I left the Post and started working on a book.
If I could be anything, I'd be a space explorer, but a cool one, like Jean-Luc Picard.