Welcome to the first stop on
Relentless
tour for Tera Lynn Childs & Tracy Deebs.
---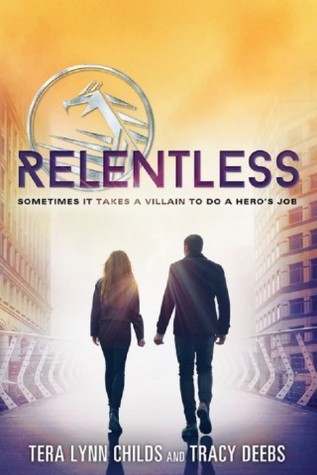 Relentless
The Hero Agenda #2
Author: Tera Lynn Childs & Tracy Deebs
Reading Level: Young Adult
Genre: Horror
Released: May 17 2016
Publisher: Sourcebooks Fire
Revenge is easy, but justice is worth fighting for…

Kenna is tired of being lied to—and hunted by the very allies she once trusted. Unearthing the dark secrets of the superhero world has not only endangered her life, now her boyfriend faces execution for crimes he didn't commit and her mother is being held captive in a secret governmental prison.

Kenna is determined to stand up for what's right and save those she loves from unspeakable fates. It's time for the betrayal to end. It's time for the real criminals to face justice.

But the truth is even more terrifying than Kenna could imagine. A conspiracy threatens the fate of heroes, villains, and all of humanity. If Kenna's going to survive, she must draw on her deepest strength: her resilience. Because when Kenna's pushed to the limit, she doesn't break down. She fights back.
What YA books do you recommend for new readers?
Oh, wow, this is a really hard question. There are so many brilliant YA novels out right now that it's hard for me to even think about narrowing it down. But I'll try to list only my absolute favorites and see where that gets me!!!
The Sky is Everywhere by Jandy Nelson—I read this book for the first time four or five years ago and I still think it's one of the best young adult novels ever written. The story of a teenage girl trying to recover from her older sister's very unexpected death all while torturing herself with what should have been, The Sky is Everywhere is beautiful, poignant, and both sad and exhilarating by turns. I can't tell you how much I love it!!!
Illuminae by Amie Kaufmann and Jay Kristoff—This book is set in a galaxy far, far away and is totally Space Opera meets Top Gun, all with a psychopathic computer at the helm. Told as a case study after the fact, it is a fascinating book to look at with its redacted files and computer generated graphics. It's also an incredibly compelling read, one that had me languishing in a bathtub of long gone cold water one winter night because I couldn't stop reading it long enough to get out of the tub and get warm.
The Anatomical Shape of a Heart by Jenn Bennett—I don't even know what to say to express how much I love this book. I read it on a whim a few months ago and I love, love, love, love, love it. It's the story of a very talented artist who is trying to win a very competitive scientific art scholarship so she can pursue her dream of being an anatomical illustrator. She's a girl who plays by the rules, who totally believes in playing it safe, and who—somehow—manages to fall for a boy who is the exact opposite of everything she believes in. Disclaimer: I have a soft spot for graffiti artists, so Jack totally made my heart go pitter-pat.
Little Brother by Cory Doctorow (and it's follow up, Homeland)—I love these books. I mean, I REALLY LOVE THESE BOOKS. But then, I love everything that Cory Doctorow writes, so that's not a surprise. These two books take place in the near future San Francisco and start with a bang when someone plants a bomb in the city. The main character, Winston, has skipped school to do an advanced kind of geocaching/Larping with his friends and is mistaken by Homeland Security as a terrorist who might have planted the bombed. They kidnap him, then hold him without representation as they interrogate and torture him for days. When he is finally released, he is scared and suffering from PTSD. But as the fear fades, anger grows and Winston uses his very advanced hacking skills to take on a dystopian government that has far exceeded its jurisdiction.
The Farm by Emily McKay—This, too, is a dystopian novel, but it's all horror. A virus has taken over the population of America, and it's rapidly turning everyone infected into a Tick—a kind of hybrid vampire/zombie that is more terrifying and destructive than you can even imagine. The teenagers who aren't infected are shipped to farms where they are supposed to be safe. But it's not long after getting there that they realize the true reason these farms exist—not to protect them, but to provide the rampaging Tick population with food. This is the story of Lily, a girl determined to break herself and her twin, autistic sister, out of The Farm before their seventeenth birthdays, when they will stop being blood donors and become actual live prey. It's horrifying and terrifying and I love it so, so much!
There are dozens more books that should make this list, but these are my favorites from five different subgenres of YA. I'd love to hear what you think—about these books, if you've read them, or other books that you've read that make your own favorites list!!!
---
Tera Lynn Childs is the RITA-award-winning and bestselling author of teen fiction about a mythological high school, mermaid princesses, monster-hunting triplet descendants of Medusa, and dark fae princes.
Tracy Deebs is a New York Times and USA Today bestselling and critically-acclaimed author who writes under many pseudonyms, including young adult novels about surfing mermaids and technological armaggeddon.
Thanks to Sourcebooks, we have TWO copies of
Powerless
, the first book of The Hero Agenda series.
a Rafflecopter giveaway