---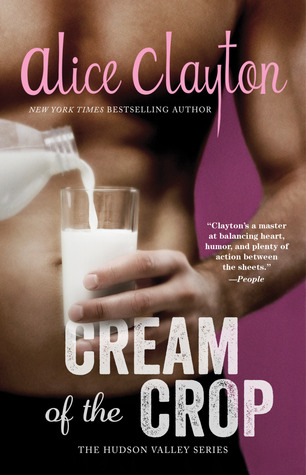 Cream of the Crop
Hudson Valley Series #2
Author:
Alice Clayton
Reading Level: Adult
Genres: Contemporary Romance
Release Date: July 12th 2016
Review Source: Gallery Books
New York Times and USA TODAY bestselling author Alice Clayton brings her trademark blend of funny and sexy to this second contemporary romance in the brand-new Hudson Valley series!

Manhattan's It Girl, Natalie Grayson, has it all: she's a hot exec at a leading advertising firm, known industry-wide for her challenging and edgy campaigns. She's got a large circle of friends, a family that loves her dearly, and her dance card is always full with handsome eligible bachelors. What else could a modern gal-about-town wish for? The answer, of course, is...cheese.

Natalie's favorite part of each week is spending Saturday morning at the Union Square Farmer's Market, where she indulges her love of all things triple cream. Her favorite booth also indulges her love of all things handsome. Oscar Mendoza, owner of the Bailey Falls Creamery and purveyor of the finest artisanal cheeses the Hudson Valley has to offer, is tall, dark, mysterious, and a bit oblivious. Or so she thinks. But that doesn't stop Natalie from fantasizing about the size of his, ahem, milk can.

Romance is churning, passion is burning, and something incredible is rising to the top. Could it be...love?
This is an Adult novel recommended for ages 18+ due to mature subject matter.
I LOVED it!! Another awesome book by Alice Clayton!
Natalie Grayson, a plus size girl, grew up struggling with insecurities. She had one messy relationship which forced her to do some soul searching. She moved cross country and reinvented herself. She gained a whole lot of confidence, a sexy wardrobe, and then moved back to her hometown, New York. I love her!! I love that Alice had her embrace her curves and know that she was drop dead gorgeous! Natalie is a very take charge, go getter, and proves that in her work. She is successful in career and in her relationships. She has proven she can get any man she wants and "can have them eating out of her hand". However all that confidence flies out of the window when a sexy farmer comes to play.
Oscar is soooooo SEXY!! He is the quiet, brooding, extremely hot type. He very quickly got added to my sexiest book boyfriend list!! The chemistry between Oscar and Natalie is scorching!! Alice Clayton can soooo write the sex scenes! I definitely recommend some water and a fan with this book.
As always Alice brings her humor to the story line which never disappoints. I love her writing style! The picture she paints of New York, both city and country (Hudson Valley), make me want to pack my bags right now and move there!
My only complaint is that I wanted to keep reading! It was a quick read and I read it in one day. I loved this book! Go read this book now!!