---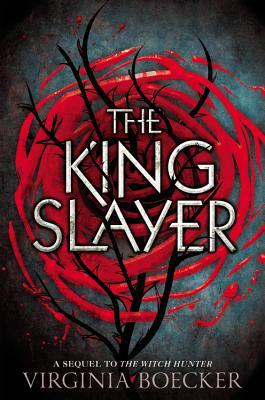 The King Slayer
The Witch Hunter #2
Author: Virginia Boecker
Reading Level: Young Adult
Genres: Paranormal
Release Date: June 14th 2016
Publisher: Little, Brown Books for Young Readers
An action-packed and suspenseful sequel to The Witch Hunter, perfect for fans of Graceling and the Grisha Trilogy.

"I think, in time, you'll either be my greatest mistake or my greatest victory."

Former witch hunter Elizabeth Grey is hiding within the magically protected village of Harrow, evading the price put on her head by Lord Blackwell, the usurper king of Anglia. Their last encounter left Blackwell ruined, but his thirst for power grows stronger every day. He's readying for a war against those who would resist his rule--namely Elizabeth and the witches and wizards she now calls her allies.

Having lost her stigma, a magical source of protection and healing, Elizabeth's strength is tested both physically and emotionally. War always means sacrifice, and as the lines between good and evil blur once more, Elizabeth must decide just how far she'll go to save those she loves.
The King Slayer was one of my anticipated books of 2016. Regardless the fact that I struggled with this one at the beginning, as I continued the story, the more enjoyable it became. I think if I would've re-read The Witch Hunter things would make more sense but it was understandable as you put one and two together, and it was great to have the gang back. Overall, I am happy with the outcome.
This sequel of The Witch Hunter was an interesting story. There was so much going on and we see our characters changed. The one with the most impact is Elizabeth Grey. She doesn't have her stigma anymore and she is now more vulnerable than ever. She is so different and things are a bit scary for her. Luckily, our swoon boy, John, is there to protect her. Elizabeth may be a former witch hunter, but it doesn't mean she isn't a heroine. As a matter of fact, not having her stigma makes her even more of a badass because her willingness to sacrifice her life is much admirable. If you want to know more of her relationship with John, then don't worry... Virginia takes good care of this matter. There are few more swoony moments in this book that you will forget there is a war going on. Honestly, John will take you to heaven and make you believe in unicorns. He's such an amazing character and I love him so much.
I adored the character development in this sequel. I really enjoyed how the story shifted from romance to action to humor to more action. Which this is the best thing of The King Slayer.. the action. As I'd mentioned before, there is so much going on and most of these include actions, betrayals, twists and more. A perfect end to this duology.
Overall, The King Slayer started slow but as the story progress, it begins to pick up and it ends with a BANG. Really, the ending was shocking! I was really surprised. Things are not easy for these characters but they did not go down easily.