---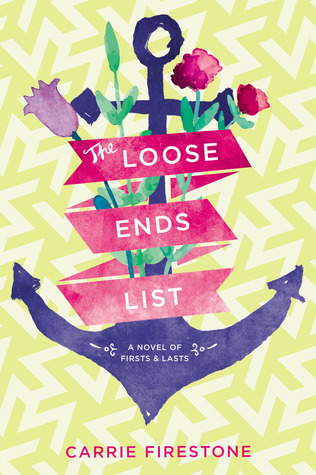 The Loose Ends List
Author: Carrie Firestone
Reading Level: Young Adult
Genre: Contemporary
Release Date: June 7th 2016
Review Source: Little, Brown Books for Young Readers
First loves. Last Wishes. Letting go.

Seventeen-year-old Maddie O'Neill Levine lives a charmed life, and is primed to spend the perfect pre-college summer with her best friends and young-at-heart socialite grandmother (also Maddie's closest confidante), tying up high school loose ends. Maddie's plans change the instant Gram announces that she is terminally ill and has booked the family on a secret "death with dignity" cruise ship so that she can leave the world in her own unconventional way - and give the O'Neill clan an unforgettable summer of dreams-come-true in the process.

Soon, Maddie is on the trip of a lifetime with her over-the-top family. As they travel the globe, Maddie bonds with other passengers and falls for Enzo, who is processing his own grief. But despite the laughter, headiness of first love, and excitement of glamorous destinations, Maddie knows she is on the brink of losing Gram. She struggles to find the strength to say good-bye in a whirlwind summer shaped by love, loss, and the power of forgiveness.
Maddie's life has been turned upside down. Her Grams means the world to get so when her grandmother drops a massive bomb on her she doesn't know how to process it. Loosing someone is never easy, but when it happens unexpectedly it hits you that much harder.
Maddie's Gram has taken matters into her own hands when she finds out she is terminally ill. Instead of waiting it out and making her family suffer she has decided to check off some stuff from her own "Loose Ends List." This is where a two month cruise comes into play wither some family members want to go or not.
The Loose Ends List was so much more than I ever expected it to be. I laughed, cried, cackled at time and felt my heart grow ten folds all within a span of a few pages. It was a fantastic debut by Carrie Firestorm and I'm very much looking forward to reading more from her. I definitely connected with a few characters and when something like this is thrown at you, you never really know what reactions you might get. Firestorm does an incredible job of blending all of these characters together. I can't recommend this book enough! The Loose Ends List is a perfect contemporary to get lost in.
---
Carrie Firestone has lived in rural, urban, and suburban places, and, while she currently lives in the suburbs, she is decidedly a CITY person. She loves parties, and all kinds of music, and books about random people doing random things in random places. She loves to travel with her husband, and two daughters, Lauren and Emily. When she isn't writing, you might find her reluctantly sharing her popcorn at the movies, trying to get people (or dogs) to do a conga line, or adding items to her loose ends list.
a Rafflecopter giveaway