---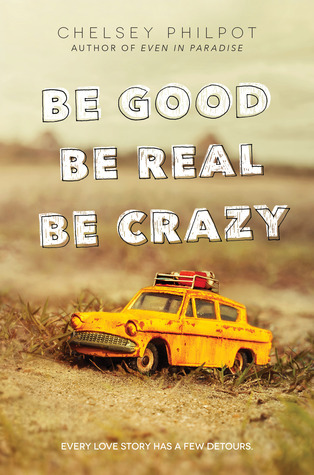 Be Good Be Real Be Crazy
Author:
Chelsey Philpot
Reading Level: Young Adult
Genes: Contemporary | Romance
Release Date: October 11th 2016
Review Source: HarperTeen
Three teenagers. One road trip. Countless detours. From the author of Even in Paradise comes a story about love, friendship, and finding yourself that is perfect for fans of Paper Towns and Mosquitoland.

When Mia first waltzed into Homer's small corner of Florida, she changed Homer's entire world. It wasn't long before he was hopelessly in love. But now Mia is moving away—and Homer and his younger brother, Einstein, are helping her drive hundreds of miles to her new home.

This might be Homer's last chance to tell Mia how he really feels. And with so many detours in front of them, anything could happen.

This book is the story of a good, wholesome boy who falls in love with a mysterious whirlwind of a girl. Homer and his brother Einstein are living in South Florida with their adoptive dads who run a souvenir shop. One day, Mia walks in with all her charm and gets hired. Homer, a recent high school graduate himself, finds himself falling in love with an 18 year-old pregnant girl, whom his parents adore. Her pregnancy, however, is not a major factor of the overall story, of course it is mentioned frequently, but it doesn't hinder her character.
The plot of the story thickens when Mia's houseboat burns down and she decides to decline Homer's dads' offers to live with them and find where one of her foster sisters lives across the country and make the road trip herself. Homer and his brother offer to go with her, and the trip begins.
Along the way, these young people face plenty of detours and meet many new characters. One thing I enjoyed throughout this book that this author did, is that every chapter after a new character was introduced she would have a short "parable" about them to explain their background. Which, I felt, made the story a bit more personal.
Eventually, after many events, Mia ends up stealing the vehicle, Einstein gets a broken wrist, and a "bad boy" rock star helps the brothers and a friend made along the way get to a convention, which was one of Einstein's conditions for joining the road trip in the first place. Mia shows up once more and conflicts are resolved.
I enjoyed the book, it wasn't at all a bad read - it just didn't have that umph. I felt a little complacent at times while reading it and I wasn't rushing to pick it up every time I had put it down.
However, I did my best to not spoil any big events from the plot with too many details, so if you would like to know more, it's worth giving the book a chance.
Save
Save