---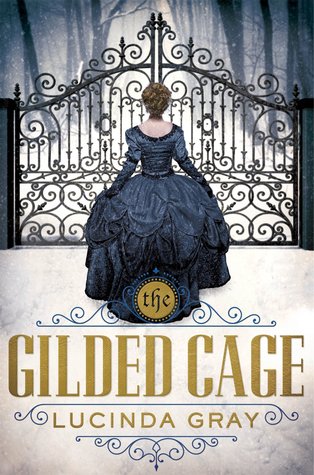 The Gilded Cage
Author:
Lucinda Gray
Reading Level: Young Adult
Genre: Historical Fiction
Released: August 2, 2016
Review Source: Henry Holt and Co.
After growing up on a farm in Virginia, Walthingham Hall in England seems like another world to sixteen-year-old Katherine Randolph. Her new life, filled with the splendor of upper-class England in the 1820s, is shattered when her brother mysteriously drowns. Katherine is expected to observe the mourning customs and get on with her life, but she can't accept that her brother's death was an accident.

A bitter poacher prowls the estate, and strange visitors threaten the occupants of the house. There's a rumor, too, that a wild animal stalks the woods of Walthingham. Can Katherine retain her sanity long enough to find out the truth? Or will her brother's killer claim her life, too?
Katherine's world is about to change from a farmland regular to a woman of wealth. And from there her world just keeps on turning. Her brother - her last known living family relative - mysteriously dies and rather than following the mourning customs Katherine takes it upon herself to figure out the truth.
This book was intriguing. It started and reminded me of Pocahontas 2. When Pocahontas decides to go to England to see what life is really like in the town. This changing of venue shocks the characters. It puts them in a transition period that is intriguing to everyone. Katherine is use to being the kind of girl who gets her hands dirty and therefore when she is forced to be the proper woman of wealth it becomes a difficult task.
When her brother drowns things start to change for Katherine. We see a girl torn up by a relative passing, and no one wants to let her find out what really happened. This puts Katherine in a place of growth - one that shows what her true character is. Mysterious characters enter her life and she handles them as readers would expect.
Gray does a good job at transporting you into the world of the 1820's and she keeps you riveted by an engrossing story.