---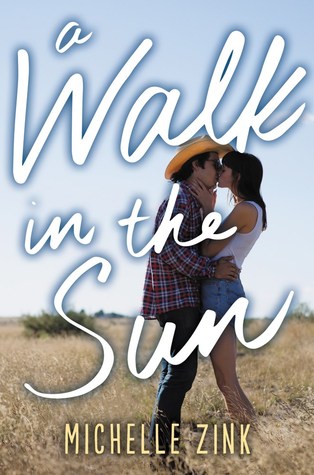 A Walk in the Sun
Author:
Michelle Zink
Reading Level: Young Adult
Genre: Contemporary
Released: May 3rd 2016
Review Source: HarperTeen
Rose Darrow never wanted to spend her life working on her family's farm. But when her family is rocked by an unexpected tragedy she has no choice but to put her plans for the future—and dreams of escaping her small town—on hold.

Bodhi Lowell left home as a kid and hasn't looked back. Years of working farm jobs has given him the one thing he wants most: freedom to travel without answering to anyone. He's already looking past his job at Darrow Farm and plans on leaving in September—until he meets Rose.

Neither Rose nor Bodhi can deny the sparks flying between them, but with the end of summer looming, they must decide if it is better to have loved and lost than never to have loved at all....
A Walk in the Sun
was the perfect contemporary novel all rolled into one. Rose and Bodhi are forced together when Rose's aunt hires Bodhi to help on their family farm. Rose is close to graduating high school but her hopeful plans for travel after graduation are put on hold after the death of her mother that has left her father in a deep depression and Rose feels responsible for taking care of the family farm. Cue Rose's aunt hiring on Bodhi for the summer. While Rose is dealing with heavy grief, Bodhi is dealing with his own different grief. They're both reserved and standoffish towards each other for a good time but that helps make the relationship feel organic once it starts. A lot of contemporary novels rush into the romance part of the story since there's not a lot of time to work with and Zink built a friendship for our characters first, and then their feelings bloomed into more.
This was the perfect summer contemporary read. I've read Michelle Zink's
Lies I Told
series and fell for her storytelling then and couldn't wait to get my hands on this one. And with no surprise it captured me right away and I couldn't wait to hear both Rose and Bodhi's story.