---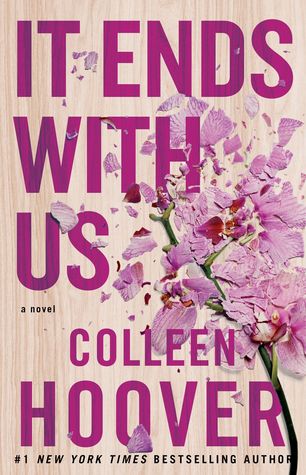 It Ends with Us
Author: Colleen Hoover
Reading Level: New Adult
Genre: Contemporary
Released: August 2nd 2016
Review Source: Atria Books
Sometimes it is the one who loves you who hurts you the most.

Lily hasn't always had it easy, but that's never stopped her from working hard for the life she wants. She's come a long way from the small town in Maine where she grew up—she graduated from college, moved to Boston, and started her own business. So when she feels a spark with a gorgeous neurosurgeon named Ryle Kincaid, everything in Lily's life suddenly seems almost too good to be true.

Ryle is assertive, stubborn, maybe even a little arrogant. He's also sensitive, brilliant, and has a total soft spot for Lily. And the way he looks in scrubs certainly doesn't hurt. Lily can't get him out of her head. But Ryle's complete aversion to relationships is disturbing. Even as Lily finds herself becoming the exception to his "no dating" rule, she can't help but wonder what made him that way in the first place.

As questions about her new relationship overwhelm her, so do thoughts of Atlas Corrigan—her first love and a link to the past she left behind. He was her kindred spirit, her protector. When Atlas suddenly reappears, everything Lily has built with Ryle is threatened.

With this bold and deeply personal novel, Colleen Hoover delivers a heart-wrenching story that breaks exciting new ground for her as a writer. Combining a captivating romance with a cast of all-too-human characters, It Ends With Us is an unforgettable tale of love that comes at the ultimate price.
I've been staring at my computer screen for a while now and words cannot be put together to describe the
beauty
authenticity of this book. When a beloved author, especially one that you adore with every piece of you, opens up in such a personal way, the way Colleen did, being speechless speaks louder than saying anything at all.
If you're familiar with Colleen's words, then you know she brings her A game, all the times - there is no doubt in that. Which is the reason why she is #1 New York Bestselling Author every time she comes out with a book. Her novels are always a work of art. It Ends With Us is not just another of her masterpieces but a piece of her heart. And you need to cherish it, forever.
I remember starting this book hours before going in to work and while at work I had to leave because my heart was breaking. Pieces by pieces. I didn't know what this book entitles, but as the pages were turned, Colleen's put herself out there and capture the gray area in life we all try to ignore. It Ends With Us is an inspiring and powerful story, you don't want to miss out on this.
Lily Bloom is a character we can all easily identify with. She's the type of girl that wears her heart on her sleeve. She's real, vulnerable, admirable, strong and but most importantly, she had the guts to put her foot down once she had enough. Not for herself but for a love one. She goes thru something very difficult in life but sadly something very common matter nowadays. Sadly but surely, this books covers this matter in a way one has never done before. By being brutally honest. And for this Colleen exceeds in many ways. Maybe the reason is
people
authors may fear their character can easily be judged? "Why couldn't she just leave, I would've done it"? Maybe because no one wants to hear the brutal side of life? Maybe because it is easier to judge than to hear the truth? This is not an easy story to tell, especially with
that
message - a message I will not tell you because you need to read it. But when you're being as raw and honest and you open your heart, then people will come to sense and understand. And this heroine, like Lily Bloom will make you understand.
I wish I could tell you more about the message, about the story and about the characters. However, it is best that you go in without knowing anything and read this piece of information open minded.
It Ends With Us is a MUST read. If you're a fan of CoHo, then drop everything and read this book TODAY. If you want to be curious, then read this book TODAY. Everyone should read this book TODAY. It is a book with PRIORITY stamp all over and you cannot put this on your shelf as TBR. No, it will be a crime to put this book down without having the chance to read it. It Ends With Us is raw, unique and deserves to be #1 internationally. It is story that speaks the truth, a story with authenticity, a story with a very powerful message, a story that needs to be read and shared. A story that will break you and warm you. And when you get to the part where you read the TITLE - YOU WILL BE BLOWN AWAY. YOU WILL BE SPEECHLESS. GO READ IT NOW.
Visit
www.ItEndsWithUsBook.com
for teasers, tour dates and more.
---
Colleen Hoover is the #1 New York Times bestselling author of Slammed, This Girl, Point of Retreat, Hopeless, Losing Hope, Finding Cinderella, Maybe Someday, Ugly Love, Maybe Not, and Confess. She lives in Texas with her husband and their three boys. Please visit
ColleenHoover.com
.
Win 1 of 3 prize bundles of one signed copy of IT ENDS WITH US and a limited Everything's Better in Boston magnet (trust us, you'll get it after you read the book)! Contest is open until August 26th.
a Rafflecopter giveaway