Nevernight
tour for Jay Kristoff. This tour is hosted by
Rockstar Book Tour.
---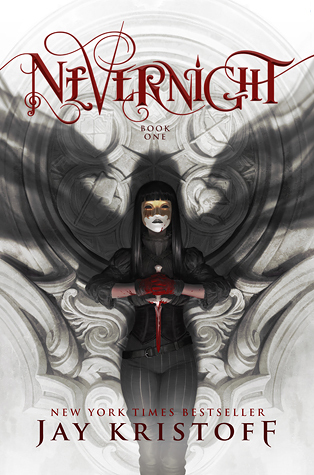 Nevernight
Author: Jay Kristoff
Reading Level: New Adult
Genre: Fantasy
Released: August 9th 2016
Review Source: Thomas Dunne Books
The first in a new fantasy series from the New York Times bestselling author.

In a land where three suns almost never set, a fledgling killer joins a school of assassins, seeking vengeance against the powers who destroyed her family.

Daughter of an executed traitor, Mia Corvere is barely able to escape her father's failed rebellion with her life. Alone and friendless, she hides in a city built from the bones of a dead god, hunted by the Senate and her father's former comrades. But her gift for speaking with the shadows leads her to the door of a retired killer, and a future she never imagined.

Now, Mia is apprenticed to the deadliest flock of assassins in the entire Republic—the Red Church. If she bests her fellow students in contests of steel, poison and the subtle arts, she'll be inducted among the Blades of the Lady of Blessed Murder, and one step closer to the vengeance she desires. But a killer is loose within the Church's halls, the bloody secrets of Mia's past return to haunt her, and a plot to bring down the entire congregation is unfolding in the shadows she so loves.

Will she even survive to initiation, let alone have her revenge?

He does not believe in happy endings.
Is this a young adult novel? I honestly do not think it is... It's dark, sexy but bloody dangerous. And I wouldn't recommend this for the younger crowd. As for the older gang... Read on and be prepare to be blown away.
Nevernight had me confused right off the bat. I had to read the first chapter about 3 times to understand what was going on. But don't be fooled because Mia will leave your mouth hanging on this very chapter and will completely blow your mind as you continue the story.
Mia is such a fierce, dangerous and fun character to read. She is like Rose of The Vampire Academy, only snarkier and more of a badass and you certainly wouldn't mess with. Mia is a very dark character and boy, does she do the unthinkable. She's an assassin but she's not evil. In better terms, if you watch Orphan Black and love Helena, like I do, then you will looovee Mia. If you put Helena and Mia, you would think they are twins as they almost have the same personality. Not evil but when the job needs to be done, it gets done. They kill with a cause. And despite their wicked and dark personality, you fall for them.
Nevernight is very complex, full of bloody scenes and epic world-building. It is not your typical read. Trust no one. Betrayal is the theme of this book and the twist and turns are bloody. There are hot and steamy romance, hence why this is not suited for young adults, but don't be fooled... If you want a happy ending, then look away. Just when you think Mia has found happiness with a certain character... Your heart will bleed out of agony. There is no happy ending.
Overall, Nevernight certainly was quite an experience. Despite being a great story, filled with bloody scenes, epic moves, there are certain matters I am still confused of. I know Mia has a very strong personality, but she depends too much on male characters. Especially a male cat, who is not a cat, but a cat... You have to read to understand. He's the one that makes her act out of fear and do these awful and brutal things. He's the definition of sinister. Why? Why can't she be badass on her own? And the footnotes... *sigh* Regardless of these matters, I would recommend people, not the young crowd, to read Nevernight. There are many great scenes and amazing characters.
---
Jay Kristoff is a New York Times and international bestselling author of science fiction and fantasy. He grew up in the second most isolated capital city on earth and fled at his earliest convenience, although he's been known to trek back for weddings of the particularly nice and funerals of the particularly wealthy. He spent most of his formative years locked in his bedroom with piles of books, or gathered around dimly-lit tables rolling polyhedral dice. Being the holder of an Arts degree, he has no education to speak of.
His LOTUS WAR trilogy was critically acclaimed in Kirkus and Publishers Weekly, nominated for the David Gemmell Morningstar and Legend awards and won the 2014 Aurealis Award. Jay's new series, the SciFi thriller THE ILLUMINAE FILES, was co-authored with Amie Kaufman. Book 1, ILLUMINAE, became a New York Times and international bestseller, was named among the Kirkus, Amazon and YALSA Best Books of 2015 and won the 2016 Aurealis Award and an ABIA Book of the Year award. ILLUMINAE is currently slated to be published in twenty five countries, and film rights have been acquired by Brad Pitt and Plan B Entertainment.
Jay's new fantasy series, THE NEVERNIGHT CHRONICLE, commences with book 1, NEVERNIGHT, from St Martins Press/Thomas Dunne Books and Harper Voyager in 2016. A new YA series, LIFEL1K3 has also been acquired by Knopf/Random House Kids, and commences publication in 2018. Jay is as surprised about all this as you are. He is represented by Josh Adams at Adams Literary.
Jay is 6'7 and has approximately 13,030 days to live. He abides in Melbourne with his secret agent kung-fu assassin wife, and the world's laziest Jack Russell.
5 winners will receive a finished copy of NEVERNIGHT, US Only.
a Rafflecopter giveaway
Follow the TOUR