Welcome tour our stop on
The Thousandth Floor
for author Katharine McGee. This tour is hosted by
The Irish Banana Tour
!
---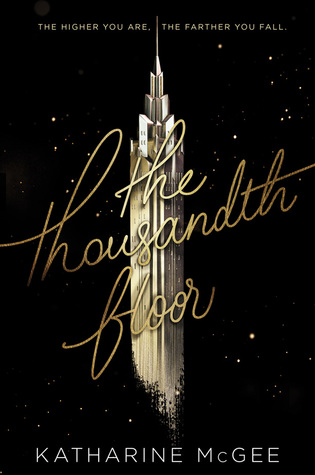 The Thousandth Floor
Author: Katharine McGee
Reading Level: Young Adult
Genre: Science Fiction
Release Date: August 30th 2016
Review Source: HarperCollins
New York City as you've never seen it before. A thousand-story tower stretching into the sky. A glittering vision of the future, where anything is possible—if you want it enough.

Welcome to Manhattan, 2118.

A hundred years in the future, New York is a city of innovation and dreams. But people never change: everyone here wants something…and everyone has something to lose.

Leda Cole's flawless exterior belies a secret addiction—to a drug she never should have tried and a boy she never should have touched.

Eris Dodd-Radson's beautiful, carefree life falls to pieces when a heartbreaking betrayal tears her family apart.

Rylin Myers's job on one of the highest floors sweeps her into a world—and a romance—she never imagined…but will her new life cost Rylin her old one?

Watt Bakradi is a tech genius with a secret: he knows everything about everyone. But when he's hired to spy by an upper-floor girl, he finds himself caught up in a complicated web of lies.

And living above everyone else on the thousandth floor is Avery Fuller, the girl genetically designed to be perfect. The girl who seems to have it all—yet is tormented by the one thing she can never have.

Debut author Katharine McGee has created a breathtakingly original series filled with high-tech luxury and futuristic glamour, where the impossible feels just within reach. But in this world, the higher you go, the farther there is to fall…
Just to get the ball rolling, who is Katharine McGee and what is she all about?
I'm originally from Houston, Texas and went to college at Princeton, where I studied French literature and constantly took the train into New York. I think that's when I first fell in love with the city. After I graduated, I moved to Manhattan and worked in publishing for four years, in editorial; before heading to California to get an MBA. I now live in Philadelphia with my fiancé (we're getting married on October 1st!) I have always been a reader, and it is a lifelong dream of mine to publish a novel. I can't believe it's coming true.
Can you tell me a little bit about how the idea of The Thousandth Floor behind it came about?
I was working in publishing at the time, during the height of the dystopian craze. I'm a big fan of post-apocalyptic fiction, but I couldn't help wondering… why hadn't anyone written a hopeful (or at least realistic) version of the future? One without a caste system, or battles to the death, or power-hungry warlords who must be killed. It seemed to me that if no one else was going to write it, then maybe I should.
The real turning point was when I read an article I read about Sky City, a project being constructed in China. It's an enormous, self-contained "vertical city" just like the Tower in The Thousandth Floor—complete with schools, apartments, hospitals, even vertical farms! Once I read the article, I knew that a vertical city would be the setting for my optimistic future novel.
Some of the futuristic elements in the novel are based on reality, and some, I will admit, came straight from my imagination! My goal with The Thousandth Floor wasn't to predict the future, so much as to give readers hope that maybe the future will be better the present. I like to think that we will have solved some problems by then—though of course, we'll still have others to face.
Was there a scene that didn't make it into the book that you wish had?
In my very first draft of the partial manuscript, Eris had a genetically engineered mini giraffe as a pet. Remember the ones in the Direct TV commercials from a few years ago—a giraffe so small you could hold it in your hand! Ultimately, my editors felt that it was too silly of a detail to feel realistic, so I cut it. But I still really miss Lorenzo, Eris's pet giraffe.

What were your biggest challenges in writing The Thousandth Floor?
Honestly, time management. I was still getting my MBA while I was writing, so I struggled to balance homework with writing time. Most of The Thousandth Floor was written at the Stanford library… I would sneak coffee into the library and sit in the big reading room with the undergraduates. Sometimes I would even eavesdrop on their conversations for inspiration!
Did you pull anything from your life to put into this story? Or do any of your characters have some tics that people in your life have?
There are aspects of me in each of the characters. I really love my younger sister and am incredibly proud of her; so a lot of my feelings toward her went into Rylin's relationship with Chrissa. I've experienced insecurities like Leda's, and I can sometimes be flaky or emotional the way Eris is. I gave Avery my love of art history, or as Watt puts it, "old things". And I can relate to Watt's determination and ambition (I also gave him the snarkiness of my fiancé, who like Watt has a very dry sense of humor).
To which Hogwarts House do you belong?
Ravenclaw! While it would be fun to be Gryffindor, I know that I'm a Ravenclaw at heart—I love libraries, I took Ph.D.-level classes in college (for fun), and I think the Grey Lady is far and away the coolest of the Hogwarts ghosts. Also, blue is my favorite color ☺
---
Katharine McGee is from Houston, Texas. She studied English and French literature at Princeton and has an MBA from Stanford. It was during her years living in a second-floor apartment in New York City that she kept daydreaming about skyscrapers . . . and then she started writing.
The Thousandth Floor is her first novel. You can visit her online at
www.katharinemcgee.com
or on Twitter at
@katharinemcgee
.
FOLLOW THE TOUR!
3 Finished Copies of THE THOUSANDTH FLOOR (US Only)
a Rafflecopter giveaway