---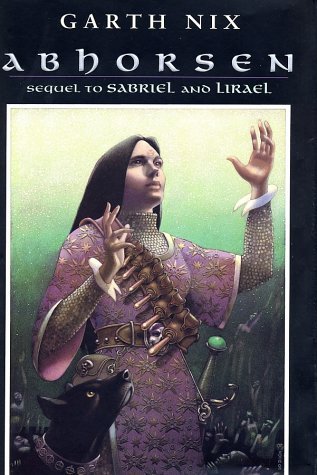 Abhorsen
Old Kingdom Series #3
Author: Garth Nix
Reading Level: Young Adult
Genre: Action Fantasy
Released: January 7th, 2003
Review Source: Harper Teen
The Ninth was strong and fought with might
But lone Orannis was put out of the light
Broken in two and buried under hill
Forever to lie there, wishing us ill.

So says the song. But Orannis, the Destroyer, is no longer buried under hill. It has been freed from its subterranean prison and now seeks to escape the silver hemispheres, the final barrier to the unleashing of its terrible powers.

The Abhorsen Sabriel and King Touchstone are missing, leaving only Lirael—newly come into her inheritance as the Abhorsen-in-Waiting—to stop the Destroyer. If Orannis's unspeakable powers are unleashed, it will mean the end of all Life. With only a vision from the Clayr to guide her, and the help of her companions, Sam, the Disreputable Dog, and Mogget, Lirael must search in both Life and Death for some means to defeat the evil destructor—before it is too late. . . .
Where book one of the series focuses on Sabriel as the Abhorsen, book two diverts to Lirael but keeps her as the semi-central character in the final book of the trilogy. It does bring back all the characters to band together but the weight of the world is seemingly on Lirael's shoulders.
Now this review does have quite a few spoilers for anyone who's not yet read these books, the synopsis gives key points. Turns out that Lirael's destiny was not that of the Clayr per-say but that of the Abhorsen, to follow as a daughter of both, as a
Rememberancer
!
Sabriel and Touchstone have been rebuilding the kingdom, driving back the hoards of dead and reclaiming the land for the living, clearing villages and putting right all the charter stones. Sam has been doing his own research into magic, his understanding is limited having grown up south of the Wall, but ever the scholar, he will find answers!
His search however, is not only driving him to madness but it's unleashing a hell on earth. Everyone is racing against time to find this evil that has been resting for so many millennia, since the creation of the seven and the birth of the charter. Will they make it in time?