---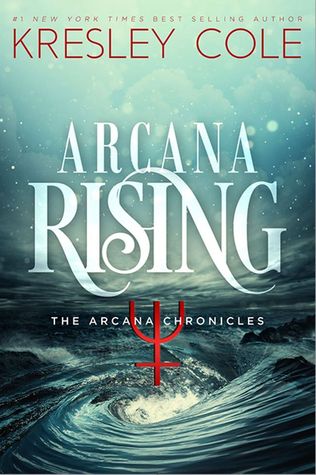 Arcana Rising
Arcana Chronicles #4
Author:Kresley Cole
Reading Level: Young Adult
Genre: Dystopia | Paranormal | Mythology
Released: August 15th 2016
Review Source: Valkyrie Press
Losses mount and deadly new threats converge in this next action-packed tale of the Arcana Chronicles by #1 New York Times bestseller Kresley Cole.

When the battle is done . . . The Emperor unleashed hell and annihilated an army, jeopardizing the future of mankind--but Circe struck back. The epic clash between them devastates the Arcana world and nearly kills Evie, separating her from her allies.

And all hope is lost . . . With Aric missing and no sign that Jack and Selena escaped Richter's reach, Evie turns more and more to the darkness lurking inside her. Two Arcana emerge as game changers: one who could be her salvation, the other her worst nightmare.

Vengeance becomes everything. To take on Richter, Evie must reunite with Death and mend their broken bond. But as she learns more about her role in the future--and her chilling past--will she become a monster like the Emperor? Or can Evie and her allies rise up from Richter's ashes, stronger than ever before?
Pre-review note: this book does not contain spoilers to Arcana Rising, but if you have not read #3, Dead of Winter, it will be spoiler ridden.
For the most part, I spent a good fraction of the novel grieving. Grieving Jackson and Selena, missing Matthew and the alliance which only just gained stability, but also missing the piece of humanity Evie lost since Jack got stuck by the Emperor. My heart was heavy but it didn't stop me savouring every chapter.
Arcana Rising
gripped at heart strings previously untouched. I didn't know what I expected, maybe for things to be fine and dandy, but instead I was greeted with the harsh reality of an apocalyptic world where young adults were destined to be pitted against each other. There has to be one Arcana who tops the rest, to win, or the world will never be restored. The Emperor is rising and he's not showing any signs of slowing down. You thought The Lovers were bad...you haven't seen anything.
"Once you've collected all the icons, the earth should come back," Gran said. "The sun as well."
"Should come back?"
"There's never been a disaster like this. I can't say for certain."
Arcana Rising kind of dimmed a lot of my hope. Revelations kept coming up and what we knew before was only a fraction of the truth. The Emperor has power unlike we've seen, and with his own allies, their trio could possibly wipe out all Arcana. Would anybody be able to survive their wrath?
My head is spinning. So much has changed and evolved. Matthew is more of a mystery than he ever was (and that was a hard target to reach), Evie now knows her one living relative, her grandmother, is alive...then there's Death. I think Aric is kick-ass. His walls are down and we can see beneath the cracks of his armour (not literally). He's a very charming and likeable character when you get to know him. Him and Evie are fantastic together, even a cute couple, but Jack and Evie are still the couple I adored.
I didn't expect anything less from the ending. I knew Kresley Cole was going to end on a jaw dropping note, but, considering how everything is not at it seems, I'm keeping my mind open to everything. Arcana Rising was the best installment yet and I urge everybody to give this series a go. I was on the edge of my seat the whole way through, and my heart is still dealing with the after emotions of finishing it.