---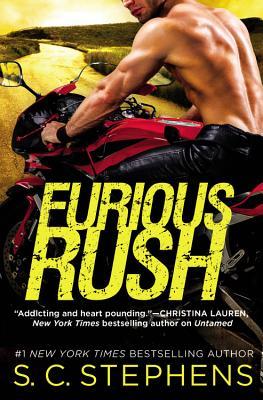 Furious Rush
Author:
S.C. Stephens
Reading Level: New Adult
Genre: Contemporary
Released: August 23, 2016
Review Source: Netgalley
S.C. Stephens is a New York Times and USA Today bestselling author who enjoys spending every free moment she has creating stories that are packed with emotion and heavy on romance.

Her debut novel, Thoughtless, an angst-filled love triangle charged with insurmountable passion and the unforgettable Kellan Kyle, took the literary world by storm. Amazed and surprised by the response to the release of Thoughtless in 2009, more stories were quick to follow. Stephens has been writing nonstop ever since.

In addition to writing, Stephens enjoys spending lazy afternoons in the sun reading fabulous novels, loading up her iPod with writer's block reducing music, heading out to the movies, and spending quality time with her friends and family. She currently resides in the beautiful Pacific Northwest with her two equally beautiful children.
The Story:
Furious Rush is a forbidden romance about Mackenzie (Kenzie), the uptight, stuck up good girl and Hayden, the sexy bad boy. Both Kenzie and Hayden are racers. Kenzie was born and raised in the racing world watching her father, a racing legend. She was in her first year racing for her family's team, Cox Racing, when an unheard of racer came along. Hayden has had a less than glamorous start in the racing world but has everything to prove. The two are not supposed to be friends or anything more because of the animosity between the teams but their chemistry can't be denied.
The Likes:
I really like Hayden! I felt that because S.C. Stephens wrote the story from Kenzie's point of view, there was a bit of mystery around him. He was extremely sexy, and loyal. He is impossible not to love. I thought the chemistry between the two was undeniable and so HOT! S.C. is a pro at writing chemistry in my opinion. I liked the concept of a modern day Romeo and Juliet. I also loved that both hero and heroine were racers. That intrigued me from the very beginning.
The Dislikes:
Although I loved the story line concept, I thought the story started out a little slow. It took me a couple sittings to get through the beginning. I also wanted to smack Lexie several times throughout the book. Her personality grated on my nerves. I hate the term bitchy, but she really did seem so bitchy during certain parts of the book. I always want to love the heroine of the book but I didn't love Lexie. As the book went along, I understood her more and could empathize with her but she was not my favorite heroine.
The Rating:
I am giving Furious Rush 4 stars because I love S.C. Stephen's writing. Even though the book started out slow for me, I feel like it definitely picked up and I enjoyed it. I'm excited to see what S.C. Stephens comes out with next.