---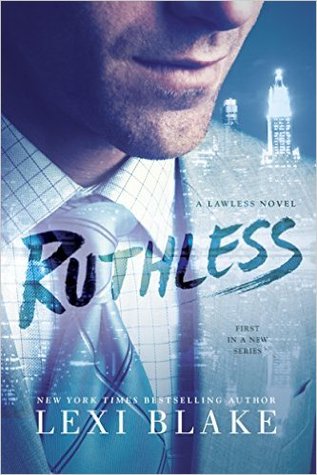 Ruthless
Lawless #1
Author:
Lexi Blake
Reading Level: New Adult
Genre: Contemporary Romance
Released: August 9, 2016
Review Source: Berkley
The first in a sexy contemporary romance series featuring the Lawless siblings—from New York Times bestselling author Lexi Blake.

The Lawless siblings are bound by vengeance. Riley, Drew, Brandon, and Mia believe the CEO of StratCast orchestrated their parents' murder twenty years ago to steal their father's software program. And there's only one way Riley can find some solid evidence...

Heir to the StratCast legacy, Ellie Stratton hires a new attorney to handle a delicate business matter—and she's shocked by her attraction to him. Over the course of a few weeks, Riley becomes her lover, her friend, her everything. But when her life is threatened, Ellie discovers that Riley is more obsessed with settling an old score than in the love she thought they were building. And Riley must choose between a revenge he's prepared for all his life and the woman he's sure he can't live without...
The Story:
A group of four siblings had their lives irrevocably altered by their parents being tragically murdered. Riley and his siblings have been painstakingly waiting TWENTY YEARS to get revenge on the people that murdered their parents. Things aren't always cut and dry, however, which is something they find out quickly. Riley is a lawyer hired to work for Ellie's company. His plan is to get a much information as he can, what he doesn't plan on is his feelings that develop for Ellie.
The Likes:
This is my first ever Lexi Blake book and she has a new fan in me. I loved her writing!! This book was packed full of suspense and mystery. I could not put this book down! I love how loyal the sibling are with one another. They have a rock solid bond and it's clear they would do anything for one another. I love the chemistry between Ellie and Riley. I feel that they balanced each other out perfectly. Riley was passionate, focused, and SEXY! Ellie was sweet and empathetic. There was lies and betrayal in this book but I felt the author did a good job pulling you into this story. I felt all the feels with this book.
The Dislikes:
There really isn't much to dislike about this book. I thought that there was some insta-love in this book. That caused the book to be 4 stars instead of 5 stars for me. Some parts of Ellie's personality was frustrating particularly how naive she was and frustration with some of the decisions she made.
The Rating:
I give Ruthless 4 solid stars because I thought it was a really good book. I was able to read it quickly because I was hooked from the very first page. I look forward to the other books of this series and have added Lexi Blake to my "authors I love" list.