---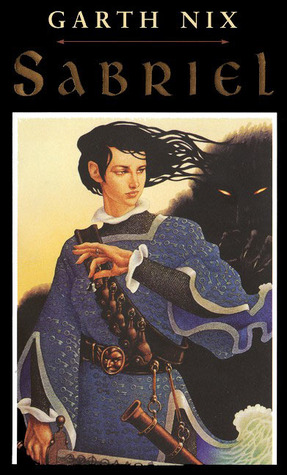 Sabriel
Old Kingdom Series #1
Author: Garth Nix
Reading Level: Young Adult
Genre: Action Fantasy
Released: Aug. 23rd, 1997
Review Source: Harper Collins
Game of Thrones fans will love the New York Times bestselling Abhorsen series.

Sent to a boarding school in Ancelstierre as a young child, Sabriel has had little experience with the random power of Free Magic or the Dead who refuse to stay dead in the Old Kingdom. But during her final semester, her father, the Abhorsen, goes missing, and Sabriel knows she must enter the Old Kingdom to find him.
I first read this book back in middle school, I was eleven. I fell in love with the writing style, the details and the epic story with a strong hero. I have loved this book for many years and I still re read it, as I do with the Potter series.
The book opens with Sabriel walking to school, we see the town through her eyes and understanding. The City of Waverly is turning modern, a few cars are seen but only the military has them, asides from the excessively wealthy, there is electricity but it is sparse yet still. We get a peek into the type of power that Sabriel and her father can wield. As the graduation grows closer, Sabriel is approached by a sending, an ominous message from her father. Now, she leaves school to search for him, across The Wall.
What awaits a fresh
Abhorsen
? Will she find her father or find her doom in the Old Kingdom that lies just across the wall. After all, times have been tough in the Old Kingdom, the monarchy has been destroyed for a long time. Winter is already falling around her as she searches for Terciel, her father. Not too long she notices that she is being followed, is it a friend or a foe?
This is always a great book to curl up with on a rainy day or long road trip! To clear any confusion up, Sabriels family are necromancers, but they bear the title
Abhorsen
, they lay the dead down where others raise the dead for nefarious deeds. Only her families bloodline can walk in death, without succumbing to the call to rest as all others who wade into the waters do. There is quite a bit of action through the book. The choice of weapons for an
Abhorsen
is a set of bells and sword, its quite the creative take for the book and I loved it. I recommend this book for any and all fantasy readers!