Welcome to our stop on the
A Shadow Bright and Burning
tour for Jessica Cluess.
This tour is hosted by
Rockstar Book Tour.
---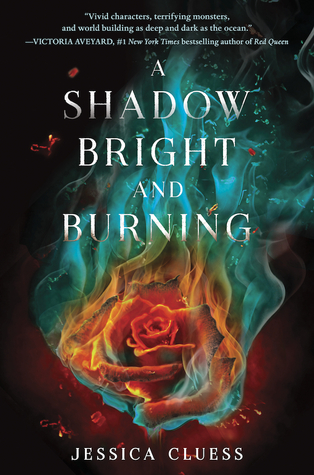 A Shadow Bright and Burning
Author: Jessica Cluess
Reading Level: Young Adult
Genre: Fantasy
Released: September 20th 2016
Review Source: Random House BFYR
I am Henrietta Howel. The first female sorcerer. The prophesied one. Or am I?

Henrietta Howel can burst into flames. When she is brought to London to train with Her Majesty's sorcerers, she meets her fellow sorcerer trainees, young men eager to test her powers and her heart. One will challenge her. One will fight for her. One will betray her. As Henrietta discovers the secrets hiding behind the glamour of sorcerer life, she begins to doubt that she's the true prophesied one. With battle looming, how much will she risk to save the city--and the one she loves?
Interview
Can you tell us a little bit about yourself and your book?
I'm a Los Angeles native who lived in Chicago for seven years, but moved back when it got too cold. When I'm not writing, I'm a writing instructor for kids and teens, which is a job I love. As for my book, A Shadow Bright and Burning is about a young girl in an alternate Victorian England who is brought to train with an elite, all-male enclave of sorcerers in order to battle hideous monsters from another dimension. So it's very subtle.
What was the hardest scene for you to write in A Shadow Bright and Burning and why?
There's a scene towards the end where Henrietta's expectations are upset. She has terrible trust issues, which I can relate to. So writing that scene was a little like opening a wound.
What's the most interesting/exciting thing you've done in the name of research?
My hope is I'll be able to go to Cornwall and Yorkshire in early 2017 for some more hands on research. Fingers crossed that it happens!
What encouragement helped you along the way?
I was very lucky that my family was so supportive. I have some friends who struggle with getting their family to accept their writing, but I've always been surrounded by people who are excited about what I do. Two of my friends, Brandie and Alyssa, read over ASBAB when it was still fairly rough, and gave great advice. Their belief really motivated me to query the book. It made me believe I could do it, with enough time and patience.
To which Hogwarts House do you belong?
Gryffindor! It's funny, because nowadays it feels like being a Gryffindor is boring to a lot of people. But I can't help what I am.
What are you working on next?
I'm revising the sequel to ASBAB right now, and then I'm going to have to get started on book three. I've got my hands full at the moment, but I have an idea for another YA fantasy that I'm excited about. I'll get to it in time.
---
Jessica Cluess is a writer, a graduate of Northwestern University, and an unapologetic nerd. After college, she moved to Los Angeles, where she served coffee to the rich and famous while working on her first novel. When she's not writing books, she's an instructor at Writopia Lab, helping kids and teens tell their own stories.
3 winners will receive a signed copy of A SHADOW BRIGHT AND BURNING, US Only.
FOLLOW THE TOUR