Welcome to our stop on The Midnight Star tour for Marie Lu. It is an honored to be part of the tour as Marie Lu is a favorite author of ours. Be sure to enter your preorder info so you can get your preorder goodies! This tour is hosted by
PenguinTeen
.
---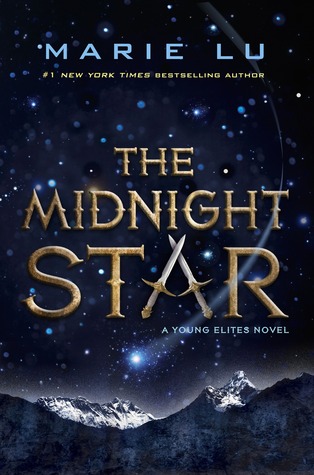 The Midnight Star
The Young Elites #3
Author: Marie Lu
Reading Level: Young Adult
Genre: Fantasy
Released: October 11th 2016
Publisher: G.P. Putnam's Sons Books for Young Readers
The thrilling finale to the New York Times bestselling Young Elites series from "hit factory" Marie Lu.

There was once a time when darkness shrouded the world, and the darkness had a queen.

Adelina Amouteru is done suffering. She's turned her back on those who have betrayed her and achieved the ultimate revenge: victory. Her reign as the White Wolf has been a triumphant one, but with each conquest her cruelty only grows. The darkness within her has begun to spiral out of control, threatening to destroy all that she's achieved.

Adelina's forced to revisit old wounds when a new danger appears, putting not only Adelina at risk, but every Elite and the very world they live in. In order to save herself and preserve her empire, Adelina and her Roses must join the Daggers on a perilous quest—though this uneasy alliance may prove to be the real danger.

Bestselling author Marie Lu concludes Adelina's story with this haunting and hypnotizing final installment to the Young Elites series.
Top 5 Favorite Halloween Costumes That Are Perfect for Adelina
5. This year, my husband is dressing up as Winona Ryder in Stranger Things by wearing a wig, holding a bunch of Christmas lights, and repeatedly saying "WILL!!". I think Adelina could pull this off, too, given that Adelina also sees things when no one else does.
4. The White Witch from The Chronicles of Narnia.
3. Saruman. I think Adelina could totally slay a long white beard.
2. Draco Malfoy. I mean, Adelina does cut her silver hair short at the end of The Young Elites. It could work.
1.
Daenerys Targaryen (with an eyepatch).
---
I write young adult novels, and have a special love for dystopian books. Ironically, I was born in 1984. Before becoming a full-time writer, I was an Art Director at a video game company. Now I shuffle around at home and talk to myself a lot. :)
I graduated from the University of Southern California in '06 and currently live in LA, where I spend my time stuck on the freeways.
1. Pre-order your copy of THE MIDNIGHT STAR from any store
2. Snap a photo or screenshot of your receipt
3. Fill out the form below and upload your receipt
4. Your quote tote and water bottle will arrive sometime before 11/8.
Week Two:
Thursday, 10/6:
Bookiemoji
(Top 5 Reasons to Read TYE)
Friday, 10/7:
MundieMoms
(Review + Favorite Quotes)