Welcome to our stop on the
Rose & Thorn
tour for Sarah Prineas.
This tour is hosted by
Rockstar Book Tour.
---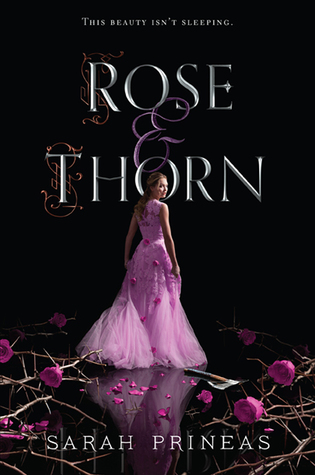 Rose & Thorn
Ash & Bramble #2
Author: Sarah Prineas
Reading Level: Young Adult
Genre: Fantasy
Released: October 18th 2016
Review Source: HarperTeen
This beauty isn't sleeping! Discover the true story of Sleeping Beauty in Sarah Prineas's bold YA fairy-tale retelling filled with thrilling adventure and romance, perfect for fans of The Lunar Chronicles and The Girl of Fire & Thorns trilogy.

After the spell protecting her is destroyed, Rose seeks safety in the world outside the valley she had called home. She's been kept hidden all her life to delay the three curses she was born with—curses that will put her into her own fairy tale and a century-long slumber. Accompanied by the handsome and mysterious Watcher, Griff, and his witty and warmhearted partner, Quirk, Rose tries to escape from the ties that bind her to her story. But will the path they take lead them to freedom, or will it bring them straight into the fairy tale they are trying to avoid?

Set in the world of Sarah Prineas's Ash & Bramble fifty years later, Rose & Thorn is a powerful retelling of the classic Sleeping Beauty tale where the characters fight to find their own Happy Ever After.
Why was this story so short? Is it because I was enjoying it so much, Sarah just wanted to tease me? Because if it is, then that's not fair, I need more. Rose & Thorn is by far my favorite of this series. From the very beginning this story was compelling.
Rose has been living her entire life apart from the world. She's been protected by the Penwitch's power and been guarded by Shoe, yes that
Shoe
. She's very naive and has a lot to learn. But when the protection is broken, Rose must learn to survive the cruel world and get all three curses removed. Like Sleeping Beauty, Rose has been blessed by beauty but this makes the quest very challenging. And unlike Sleeping Beauty, Rose takes matter into her own hands.
What I love most about this story is how Rose composed herself throughout this challenging quest. The only person she knew died and instead of breaking down, this naive girl decided to take a journey to figure out who she is. Though it took a while, Rose learns she is headstrong, willing to learn and doesn't need Prince Charming to survive. She doesn't wait around and she takes action to her own destiny. This is very admiring -- Girl POWER.
Rose & Thorn is interesting, twisted and compelling. It deals with gender, power, and choosing your destiny. It's well paced, fun and simply admiring. The main character is charming, fierce and passionate. Her character development is very memorable and admiring. It's definitely an inspiring story which I recommend to every girl out there. Even to those wishing for someone to come to their rescue. You can chose your own fate, no matter your gender. Now, can Sarah write another book? I can't get enough of this series!
---
Hi there! I'm Sarah Prineas, author of the Magic Thief series published in the US by HarperCollins and in 17 other languages around the world, and the Winterling trilogy. I live in rural Iowa with my mad scientist husband, two kids, and two cats. My next book is called Ash & Bramble, and it's a YA.
3 winners will receive a finished copy of ROSE & THORN. US Only.
FOLLOW THE TOUR