---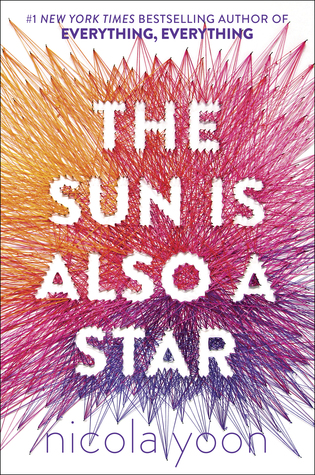 The Sun is Also a Star
Author:
Nicola Yoon
Reading Level: Young Adult
Genre: Contemporary
Released: November 1st 2016
Review Source: Delacorte Press
Natasha: I'm a girl who believes in science and facts. Not fate. Not destiny. Or dreams that will never come true. I'm definitely not the kind of girl who meets a cute boy on a crowded New York City street and falls in love with him. Not when my family is twelve hours away from being deported to Jamaica. Falling in love with him won't be my story.

Daniel: I've always been the good son, the good student, living up to my parents' high expectations. Never the poet. Or the dreamer. But when I see her, I forget about all that. Something about Natasha makes me think that fate has something much more extraordinary in store—for both of us.

The Universe: Every moment in our lives has brought us to this single moment. A million futures lie before us. Which one will come true?
There is one thing you need to know, when you pick up a Nicola Yoon book you will never be disappointed. From the first page my mind instantly transported back to being sixteen and experiencing being young again with our characters. Natasha and Daniel's paths cross one fateful day in New York, and Daniel believes it's love at first sight, that this is what stories are made of, I mean he's a poet even, he lives for this kind of stuff. Natasha on the other hand doesn't believe in love, doesn't believe in fate and only believes in science, and today is an important day, not a day to fall in love.
The Sun is Also a Star
follows a few perspectives, Daniel and Natasha and a few people they encounter throughout their day in city. Natasha is on an impossible mission to keep her family from getting deported but with twelve hours until she's set to leave she's grasping at straws. Daniel is suppose to be attending an extremely important interview with a Yale alumni, he's parents are very strict on his path to medicine, but Daniel doesn't know if that's what he wants to do forever, with his passion lying with writing poetry. Daniel is somewhat of a romantic, believes in fate, and signs, so when his train conductor makes an announcement to find God and save yourself everyone exited the plane and that's when he notices Natasha.
My absolute favorite part of
The Sun is Also a Star
was the chapters that weren't Natasha and Daniel. I know weird, but she brings in a few characters that played a part in Natasha and Daniel's day but not only that she gave you culture and then gave you the meaning and the history, she educated you. She brings life to her pages and transports you to these characters lives. I always get so wrapped up in her books that I'm finding myself holding back tears throughout the entire book.
If you're a fan of Gayle Forman's
Just One Day
this book is going to be your next favorite. I advise any and all to pick up
The Sun is Also a Star
and then while you're add it just add
Everything Everything
into your cart.
P.S. - These are seriously the most gorgeous book covers ever. Hands. Down.