---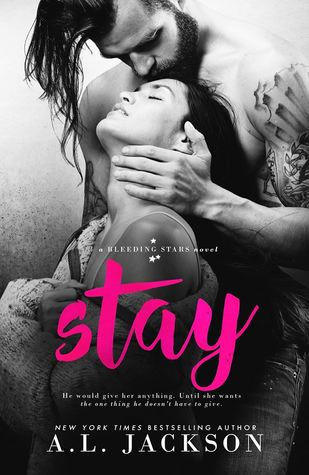 STAY
Bleeding Stars #5
Author: A.L. Jackson
Reading Level: New Adult
Genre: Contemporary Romance
Released: January 23, 2017
Review Source: A.L. Jackson Books
"I grow to love the boys who make up Sunder and the women they love more and more with each member's personal story. But I have a special place in my heart for Ash and Willow and simply devoured this book and was left with a happy smile on my face and a sigh in my heart. AL Jackson at her swoony, sexy best." Mia Sheridan, NYT Bestselling Author

"Captivating. Sexy. And in true AL Jackson style, beautifully devastating. This is hands down her best work to date, and the best thing I've read all year." ~Molly McAdams, NYT Bestselling Author

"You don't have to look hard to see the beauty that bleeds into AL Jackson's words, so wondrous and so WOW. Every word that this author writes is full of feels. Every word is mesmerizing and meaningful. Every word means everything. Every word IS EVERYTHING. Stay is the newest roller coaster of a rock star romance from A.L. Jackson's Bleeding Stars series that is pure beauty in words that break, bind, and make your heart bleed. STAY SLAYED MY SOUL."
★★★★★ 'but worth 10' soul-slaying stars
~Karen, Bookalicious Babes Blog

From NYT & USA Today Bestselling Author A.L. Jackson comes the next sexy, gripping Bleeding Stars Stand-Alone Novel…

I'm Ash Evans.
The life of the party.
Hot. Rich. Charismatic.
A tattooed rock star with the world at my feet.
I burn through women faster than the strike of a match.


I've embraced my lifestyle and live it to the fullest.
Until the day my lifestyle caught up to me.


Willow Langston found me at my lowest.
Literally.
Facedown in a puddle of my own blood.

I owe her my life and I have three months to repay that debt.
What I never should have done was touch her. Kiss her. Take her to my bed.

Love wasn't supposed to be a part of the equation.
I gave up that nasty complication a long damned time ago.
Now I want her more than my next breath.
But she doesn't know what I know.

Do I leave to protect her? Or can I face my demons and ask her to Stay?
Grab Your Copy Now
Twitter: @aljacksonauthor
Instagram: @aljacksonauthor
Snapchat: @aljacksonauthor