---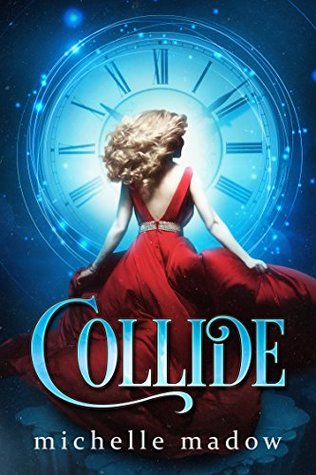 Collide
Author: Michelle Madow
Reading Level: Young Adult
Genre: Mystery
Released: February 9th 2017
Review Source: Dreamscape Publishing
I should have died when I was shot at the Halloween dance.

Instead I woke up—one week earlier, in a parallel universe where my mom's fatal car accident six months ago never happened.

A world with my mom still in it was all I ever wanted. But in this timeline, everything is different—my grades, my friends, and even my boyfriend. I'm a stranger in my own body, and I don't like who I've become.

But one thing is the same—that shooting will still happen at the end of the week.

I'm the only one who knows. Which means I'm the only one who can stop it.

But first I need to convince someone—anyone—that I'm telling the truth... and then get them to help me.
Have you ever wanted a do over in life? Anna has been wishing for months for one, since her mom died in a car accident. Since then she's built herself up, her relationship with Jake has grown strong since the summer. Halloween is fast approaching and all anyone at school can talk about is the dance and what everyone is dressing up as.
The dance however doesn't go smoothly, and as Jake bleeds out on the dance floor, Anna blacks out.
It's Friday, October 31st, again.
It's been a gruelingly long week, and it sucks to have had to live through it, again. Somehow Anna wakes up in an alternative time line, one where her mom didn't die, and Jake is very clearly not her boyfriend, Zac is.
With the dance coming up all Anna can do is try to figure out who the shooter is. Will Jake and Anna relive their awful final moments like they did the last time (a week prior)? Or will tonight play out differently?
As enemies turn into best friends, and best friends morph into jealous monster ex-bff's, who the hell knows whats going on anymore. At the end of tonight's dance, who will truly holds Anna's heart, Zac or Jake?
I found this book fun to read, and it kept me interested the whole way through, suspenseful and page turning. The multiverse theory was certainly exciting and made for a great read, to see how even our smallest decisions can have a bigger impact, on more than just our lives. I feel this story was wrapped up so perfectly for what it is that I wonder, does it really need a sequel? If there is one in the works GREAT! If not, I love it, I don't want to ruin it but man, sometimes more isn't necessary.