---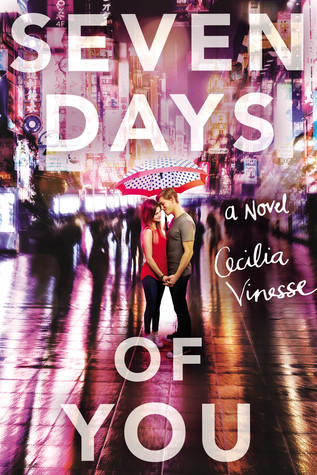 Seven Days of You
Author: Cecilia Vinesse
Reading Level: Young Adult
Genres: Contemporary Romance | Cultural
Release Date: March 7th 2017
Review Source: Little, Brown Books for Young Readers
Sophia has seven days left in Tokyo before she moves back to the States. Seven Days to say good-bye to the electric city, her wild best friend, and the boy she's harbored a semi-secret crush on for years. Seven perfect days....Until Jamie Foster-Collins moves back to Japan and ruins everything.

Jamie and Sophia have a history of heartbreak, and the last thing Sophia wants is for him to steal her leaving thunder with his stupid arriving thunder. Yet as the week counts down, the relationships she thought were stable begin to explode around her. And Jamie is the one who helps her pick up the pieces. Sophia is forced to admit she may have misjudged Jamie, but can their seven short days of Tokyo adventures end in anything but good-bye?
Seven Days of You is exactly what this story is about. You follow along Sophia's last 7 days in Tokyo before she has to move back to the states. Sophia of course doesn't want to leave her friends and her life in Tokyo, but this time around she doesn't have a choice.
What I loved the most about this book, was the detailed description of the places they visited in Tokyo. I felt like I was walking right alongside them as the story progressed. The author describes everything with such vivid details. Now what lacked for me, was the story itself. As vivid as the places were, I felt like the characters and the story, lack that same attention to detail. With that being said, it wasn't a game breaker for me. I still wanted to know what would happen when the 7 days were up.
Then came the ending and I was bummed, I held on to some hope that maybe, just maybe, the author would WOW us with plot twist at the end. But the story held its principal of 7 days. I actually felt sad at the end for Sophia.
If you want something cute and fast to read, then grab a copy of Seven Days of You when it comes out in March. I would even say it would have been a great beach read, if this was summertime.