---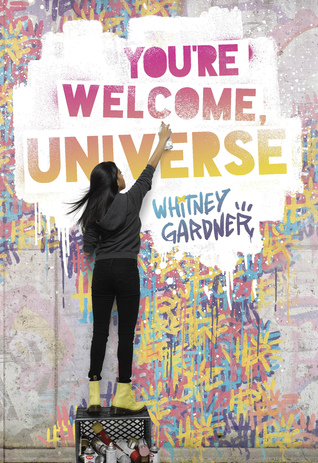 You're Welcome, Universe
Author:
Whitney Gardner
Reading Level: Young Adult
Genre: Contemporary
Release Date: March 7th 2017
Review Source: Knopf
A vibrant, edgy, fresh new YA voice for fans of More Happy Than Not and Simon vs. the Homo Sapiens Agenda, packed with interior graffiti.

When Julia finds a slur about her best friend scrawled across the back of the Kingston School for the Deaf, she covers it up with a beautiful (albeit illegal) graffiti mural.

Her supposed best friend snitches, the principal expels her, and her two mothers set Julia up with a one-way ticket to a "mainstream" school in the suburbs, where she's treated like an outcast as the only deaf student. The last thing she has left is her art, and not even Banksy himself could convince her to give that up.

Out in the 'burbs, Julia paints anywhere she can, eager to claim some turf of her own. But Julia soon learns that she might not be the only vandal in town. Someone is adding to her tags, making them better, showing off—and showing Julia up in the process. She expected her art might get painted over by cops. But she never imagined getting dragged into a full-blown graffiti war.

Told with wit and grit by debut author Whitney Gardner, who also provides gorgeous interior illustrations of Julia's graffiti tags, You're Welcome, Universe introduces audiences to a one-of-a-kind protagonist who is unabashedly herself no matter what life throws in her way.
You're Welcome, Universe is Whitney Gardner debut novel and it is phenomenal, extremely phenomenal.
You're Welcome, Universe is about a Deaf girl who was kicked out of her former school for drawing over something that hurt her friend and is then sent to another school where she finds herself in a graffiti war with someone that I did not see coming. Also I cannot get over the fact that art was featured in You're Welcome, Universe; every single piece was amazing and I couldn't stop staring at the details used.
At her new school, Julia is the only Deaf teenager and is assigned an interpreter which was all new to her since at her former school she didn't need the help of an interpreter. One of the reasons this book stands out so much is that Whitney Gardner portrays the struggles of being a teen AND the struggles artist go through when it comes to art, graffiti, and tagging.
I want you all to know how much I liked the main character Julia, not only is she a kick-ass character but she's also someone that wants her "art to be felt" and will do anything to make that happen and when push comes to shove Julia rises to the occasion.
I like romance books but I didn't know I needed more stories where friendship is front and center. Julia's ex friend snitched on her so she's more weary of anyone who wants to be friends with her but when she lowers her walls down the bond that she forms with a new friend was the best.
Whitney Gardner has won my heart with her words and story and I really hope that everyone reads You're Welcome Universe asap.