---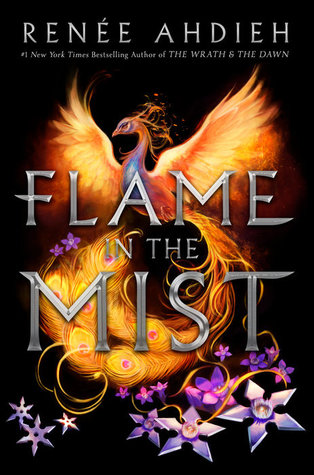 Flame in the Mist
Flame in the Mist #1
Author: Renée Ahdieh
Reading Level: Young Adult
Genre: Fantasy
Released: May 16th 2017
Publisher: G.P. Putnam's Sons Books for Young Readers
The daughter of a prominent samurai, Mariko has long known her place—she may be an accomplished alchemist, whose cunning rivals that of her brother Kenshin, but because she is not a boy, her future has always been out of her hands. At just seventeen years old, Mariko is promised to Minamoto Raiden, the son of the emperor's favorite consort—a political marriage that will elevate her family's standing. But en route to the imperial city of Inako, Mariko narrowly escapes a bloody ambush by a dangerous gang of bandits known as the Black Clan, who she learns has been hired to kill her before she reaches the palace.

Dressed as a peasant boy, Mariko sets out to infiltrate the ranks of the Black Clan, determined to track down the person responsible for the target on her back. But she's quickly captured and taken to the Black Clan's secret hideout, where she meets their leader, the rebel ronin Takeda Ranmaru, and his second-in-command, his best friend Okami. Still believing her to be a boy, Ranmaru and Okami eventually warm to Mariko, impressed by her intellect and ingenuity. As Mariko gets closer to the Black Clan, she uncovers a dark history of secrets, of betrayal and murder, which will force her to question everything she's ever known.
I love the title Flame in the Mist! Can you describe the process of choosing the title?
Thank you so much! This title was actually very much a collaboration between me, my agent, and my editor. It was such a fun process to cull through many different ideas and phrases to come up with FLAME IN THE MIST!
What is one thing you hope readers will get out of Flame in the Mist?
I hope readers will be swept away to a new land and fall in love with these characters as I have!
Without giving out spoilers, do you have a favorite scene from Flame in the Mist? Can you give us hints so we can pay close attention?
My favorite scene to write was probably the one that took place in the tea house near the middle of the book.
What music did you listen to while writing?
Many different things! Music is one of my necessities while writing. I listened to a lot of Frank Ocean and several soundtracks I've always loved.
What's the most interesting/exciting thing you've done in the name of research?
Probably learning to cook all the foods described in my books!
There are many books out there, is there one that you said to yourself "Man I wish I had written that!"
I am so glad to have so many other wonderful books to read, written by so many talented authors and friends. I wouldn't want to change any of it.
---
Enter for a chance to win one (1) of five (5) copies of Flame in the Mist by Renee Ahdieh (ARV: $17.99 each).
NO PURCHASE NECESSARY. Enter between 12:00 AM Eastern Time on May 8, 2017 and 12:00 AM on June 5, 2017. Open to residents of the fifty United States and the District of Columbia who are 13 and older. Winners will be selected at random on or about June 10, 2017. Odds of winning depend on number of eligible entries received. Void where prohibited or restricted by law.
a Rafflecopter giveaway
Week One:
Week Two:
Week Three:
Week Four: