---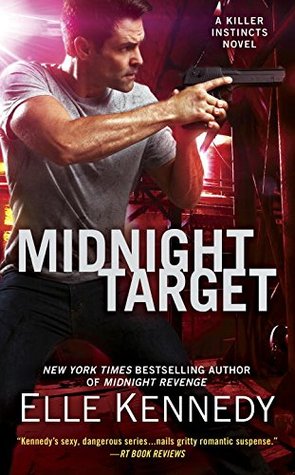 MIDNIGHT TARGET
Killer Instincts #8
Author: Elle Kennedy
Reading Level: New Adult
Genre: Contemporary Romance | Suspense
Released: April 25, 2017
Review Source: Berkley
From the New York Times bestselling author of The Score and Midnight Revenge...

Four years ago, Cate's entire life changed when she discovered she was the daughter of a supersoldier. But Jim Morgan's overprotectiveness has pushed her away. These days, she's working as a freelance photographer and living the dangerous life Jim never wanted for her.

When Cate snaps a photo linking a corrupt South American politician with the leader of a notorious drug cartel, her mercenary father leads a team to rescue her—only to get shot and critically wounded in the process.

As Morgan's operatives rally together on a revenge mission, they're faced with new alliances and old heartaches. Cate is forced to work with David "Ash" Ashton, the man who broke her heart two years ago, while Liam Macgregor and Sullivan Port resurface after years apart to finally try to deal with everything they'd left unsaid.

Soon it's all-out war between the cartel and the mercenaries—with two couples caught in the middle of the blood feud. Love and redemption are within their reach...but first they have to make it home alive.
Elle Kennedy does NOT dissapoint with Midnight Target. This is the last book of her Killer Instincts series and boy it is it every bit, if not more so, as good as the first book. The good think that I'm finding about this series is that the books can be read as standalones. I have only read book one and this book out of the series but make no mistake I do plan on reading the entire series.
So, Midnight Target is about Cate, Jim Morgan's daughter. She recently discovered she was his daughter, and what a shock that was for her to learn her father was a lethal soldier. Cate is a freelance photographer and ends up capturing a very compromising picture of a powerful person. In comes her father and his team, including Ash, the man she's had a crush on for years, to rescue her. Only, the situation is much worse that they thought it would be and reinforcements are definitely needed.
I love Cate and Ash. The whole forbidden love story-line is my favorite to read. Ash, out of respect to Jim, considers Cate as off limits. However, sometimes the heart wants what the hear wants. I also did not see the relationship with Sully and Liam coming. I won't go into to many details to avoid spoilers!
I'm rating this book with 4.5 stars because it was freaking amazing and just like the first book, a heart stopping action packed book. What an adventure Elle takes you on, she is one of my favorite story tellers. I highly recommend this series if you're ready to read a book that has you turning the pages like no other!