---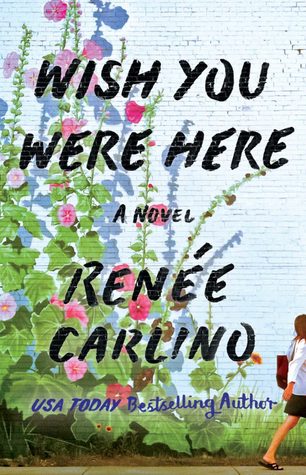 WISH YOU WERE HERE
Author: Renee Carlino
Reading Level: New Adult
Genre: Contemporary Romance
Released: August 15, 2017
Review Source: InkSlingerPR | Atria Books
You know when you're looking at someone and you can't help but smile at how oblivious they are to their own charm? That's what was happening to me, and it was making me feel…happy. Euphoric. Something indescribable. It was like we already knew each other, like we had met in a previous life. Memories that didn't exist began exploding in my mind like fireworks.

Charlotte has spent her twenties adrift, searching for a spark to jump-start her life and give her a sense of purpose. She's had as many jobs as she's had bad relationships, and now she's feeling especially lost in her less-than-glamorous gig at a pie-and-fry joint in Los Angeles, where the uniforms are bad and the tips are even worse.

Then she collides—literally—with Adam, an intriguing, handsome, and mysterious painter. Their serendipitous meeting on the street turns into a whirlwind one-night stand that has Charlotte feeling enchanted by Adam's spontaneity and joy for life. There's promise in both his words and actions, but in the harsh light of morning, Adam's tune changes, leaving Charlotte to wonder if her notorious bad luck with men is really just her own bad judgment.

Months later, a new relationship with Seth, a charming baseball player, is turning into something more meaningful, but Charlotte's still having trouble moving past her one enthralling night with Adam. Why? When she searches for answers, she finds the situation with Adam is far more complicated than she ever imagined. Faced with the decision to write a new story with Seth or finish the one started with Adam, Charlotte embarks on a life-altering journey, one that takes her across the world and back again, bringing a lifetime's worth of pain, joy, and wisdom.
I really liked this book! This was such a special, impacting story. I have been excited to read this since I heard about it. Renee Carlino is one of my favorite authors that doesn't get enough attention in my opinion.
I read Wish You Were Here in one sitting and felt all the feels the entire time. It was so much more than your typical romance book. Right away I connected with the heroine, Charlotte (Charlie) Martin. She is in her late 20's and doesn't really have her life together. She lives in a cheap apartment, working as a waitress, not meeting anyone worth her time. I think many people will be able to relate to Charlie because she's not picture perfect wrapped in a bow, she's real.
Then she meets Adam and OMG their connection is insane. They hit it off immediately. I love Adam, he is me in male form. He's an artist and quirky I love that I connected so well with both characters. I can't say too much without giving away spoilers but Charlie and Adam's time is short and a third player is added to the game, Seth. While I like Seth, he's not Adam. I struggled with accepting where this story took me but it was beautiful all in all.
I am rating this book with 4 stars because I really enjoyed this book as I do almost all of Renee's books and couldn't put it down the entire time. I do have to warn you to get your tissues ready because I ugly cried while reading this book. I definitely recommend giving this book a one click!
ORDER NOW
AMAZON:
https://t.co/dV4A6Jgy18
B&N
https://t.co/ANLkdCjcmw
iBooks:
https://geo.itunes.apple.com/us/book/wish-you-were-here/id1171093007?mt=11
EXCERPT
"You're making love sound tragic," I said.
"No"—he shook his head—"I wouldn't want it any other way. Tell me about us. What do we like to do?"
"Paint and sail and eat and drink. Just simple things." "Don't forget about sex," he said.
"Yeah, lots of sex. Before the children were born we
"We were practically naked every second of the day."
"I like that."
"When they got older, we'd sneak away for weekends and leave them at my mom's."
"What are they like? Our children."
"Happy. That's all we wished for. We put our love first and it just spilled over into them and now they're happy."
Tears sprang from my eyes and ran down my cheeks. Isn't that what we all hope for when it comes to our children?
His tone suddenly changed. "That's beautiful, Char- lotte." It was like he was waking up from the dream. I didn't want to go back to reality yet, but I knew these fantasies were just to help Adam get his mind off things.
"I can imagine a long life with you," he said. "I can imagine what a great wife you'd be."
I pulled my hand out of his. "The story is about you and me." He didn't say anything; he just nodded and then continued to stare out the window. I bent and kissed the top of his head again, and whispered, "It's about us. Don't take that away from me."
ABOUT THE AUTHOR
Renée Carlino is a screenwriter and bestselling author of contemporary women's novels and new adult fiction. Her books have been featured in national publications, including
USA TODAY
,
Huffington Post
,
Latina magazine
, and
Publisher's Weekly
. She lives in Southern California with her husband, two sons, and their sweet dog June. When she's not at the beach with her boys or working on her next project, she likes to spend her time reading, going to concerts, and eating dark chocolate. Learn more at
www.reneecarlino.com