---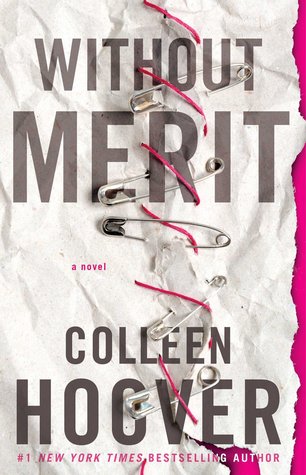 Without Merit
Author: Colleen Hoover
Reading Level: Young Adult
Genre: Contemporary
Released: October 3rd 2017
Review Source: Atria Books
Not every mistake deserves a consequence. Sometimes the only thing it deserves is forgiveness.

The Voss family is anything but normal. They live in a repurposed church, newly baptized Dollar Voss. The once cancer-stricken mother lives in the basement, the father is married to the mother's former nurse, the little half-brother isn't allowed to do or eat anything fun, and the eldest siblings are irritatingly perfect. Then, there's Merit.

Merit Voss collects trophies she hasn't earned and secrets her family forces her to keep. While browsing the local antiques shop for her next trophy, she finds Sagan. His wit and unapologetic idealism disarm and spark renewed life into her—until she discovers that he's completely unavailable. Merit retreats deeper into herself, watching her family from the sidelines when she learns a secret that no trophy in the world can fix.

Fed up with the lies, Merit decides to shatter the happy family illusion that she's never been a part of before leaving them behind for good. When her escape plan fails, Merit is forced to deal with the staggering consequences of telling the truth and losing the one boy she loves.
There isn't much that I can say that hasn't already been said before about Colleen. The fact that she always leaves us impress with her words is just incredible. No matter what the subject is about, she blinds us and then kills us slowly. And the fact that all of her books deals with sensitive topics and how she brings it to the light is confusing... Like how does she do it? How does she never disappoints?
Without Merit was very confusing at first, specially reading the synopsis. Merit Voss collects trophies? What? Why? What is Colleen up to now? But as I began reading the book, Merit was someone I can relate to. The story is very different than Colleen's other YA books, yet still intriguing. The story is slowly developed, with information about a family that is upside down. But like any other family, a family is a family. And eventually the slow burn turns into a torch and things got pretty interesting. When isn't with family? And once Colleen's story becomes interesting, goodbye world... I was hooked and I couldn't put the book down.
As you all know, when it comes to Colleen's stories, it is best to always go in blind. So I am not saying much about the story. But that it does deals with sensitive topics that will leave you with provoking thoughts. You will go into darkness but Colleen always finds a way to bring the light back and make your heart feel better. Even though I was feeling sorry about Merit and her family, there was no room for no judgments. Because like any other family, everyone has secrets and everyone wants to hide them. However, the best remedy is by talking about it as we learn in this story.
Without Merit is a life lesson. It's a story that will keep you reading all night. And even though it's YA, anyone can relate to. We all have layers of secrets that we need to learn how to peel off. And Without Merit will teach you the reason why. I highly recommend this book to everyone. Please go read it!
Visit
www.withoutmeritbook.com
for teasers, tour dates and more.
---
Colleen Hoover is the #1 New York Times bestselling author of Slammed, This Girl, Point of Retreat, Hopeless, Losing Hope, Finding Cinderella, Maybe Someday, Ugly Love, Maybe Not, and Confess. She lives in Texas with her husband and their three boys. Please visit
ColleenHoover.com
.
Win 1 of 5 signed hardcover copies of WITHOUT MERIT! Contest is open until October 30th.
a Rafflecopter giveaway