---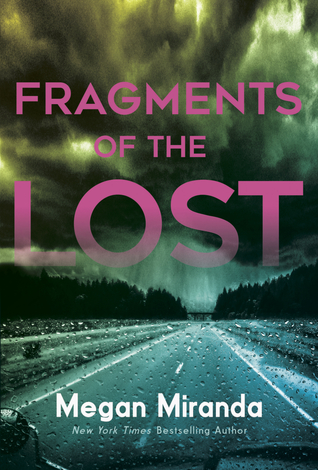 Fragments of the Lost
Author: Megan Miranda
Reading Level: Young Adult
Genre: Contemporary
Released: November 14th 2017
Review Source: Crown Books for Young Readers
From the New York Times bestselling author of All the Missing Girls and The Perfect Stranger comes a suspenseful psychological mystery about one girl's search to uncover the truth behind her ex-boyfriend's death. Perfect for fans of We Were Liars and 13 Reasons Why .

Jessa Whitworth knew she didn't belong in her ex-boyfriend Caleb's room. But she couldn't deny that she was everywhere--in his photos, his neatly folded T-shirts, even the butterfly necklace in his jeans pocket . . . the one she gave him for safe keeping on that day.

His mother asked her to pack up his things--even though she blames Jessa for his accident. How could she say no? And maybe, just maybe, it will help her work through the guilt she feels about their final moments together.

But as Jessa begins to box up the pieces of Caleb's life, they trigger memories that make Jessa realize their past relationship may not be exactly as she remembered. And she starts to question whether she really knew Caleb at all.

Each fragment of his life reveals a new clue that propels Jessa to search for the truth about Caleb's accident. What really happened on the storm-swept bridge?
Fragments of the Lost was an interesting read but not something I was expecting. I love mystery and thrillers so when I read the synopsis of this book, I thought why not. Although the story was good, I honestly think it was too slow for my liking. Nevertheless, I liked how the story wrap up.
As the story begin, we learn that Caleb was in an accident and Jessa, his ex-girlfriend, wants to learn the truth of this accident. She think she is missing something and she cannot live at peace without getting this resolved. As you continue reading, each chapter will focus on Caleb's room. That is where Jessa spend her time. The more she dig in his room, the more questions she begins to come up with. She's as clueless as day one. Her guilt is killing her. I wasn't sure why she felt guilty, as again, they had broken up. But that's when the story starts to pick up.
Although, Fragments of the Lost wasn't really a mystery or thriller story for me, I like having Jessa as the main character. She wasn't the type to give up easily. When her mind was set, she was focus until she got her answers. I really liked the aspect of whenever Jessa would find an object in Caleb's room, it would struck a memory. I liked how it told the story before and after. Also, it tells you why she cared for him. However, no matter how many story Jessa is reminded of, it feels like she is in a zombie mode. Like there is no expression or emotion from her after he died. It's like she also died along him.
Overall, I liked Fragments of the Lost but it was slow built for my liking. The story started to pick up right at the very end, which didn't give me much room to love the story as I hope I would. Needless to say, I still enjoyed Jessa and her determination. It was an interesting story with some twists and turns. Just not what I was expecting it to be.
---
Megan Miranda is the New York Times bestselling author of All the Missing Girls. She has also written several books for young adults, including Fracture, Hysteria, Vengeance, Soulprint, and The Safest Lies.
She grew up in New Jersey, graduated from MIT, and lives in North Carolina with her husband and two children. The Perfect Stranger (4/11/17) is her second novel of psychological suspense.
Giveaway:
3 winners will receive a finished copy of FRAGMENTS OF THE LOST, US Only.


Tour Schedule:
Week Two: