---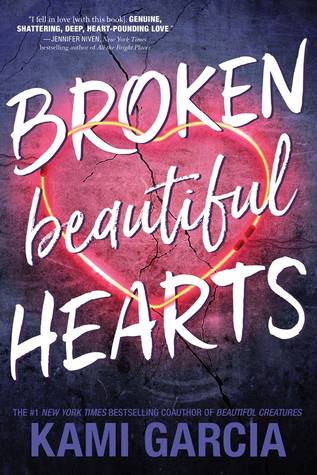 Broken Beautiful Hearts
Author:
Kami Garcia
Reading Level: Young Adult
Genre: Contemporary
Released: February 6, 2018
Review Source: Imprint
Before, Peyton was a star soccer player with the perfect boyfriend, Reed. Now, she has a torn knee ligament, a scholarship on the line, and a shattered sense of self. No one believes Reed pushed her, causing her injury, and Peyton just wants to leave the trauma behind. Living with her uncle and twin cousins in their small, football-obsessed town seems like a great escape plan.

There, Peyton meets Owen—high school classmate and local MMA fighter. Though Owen is charming and gentle, Peyton is determined to repress her growing attraction. But when her old and new life collide, Peyton must reclaim the truth of her past in order to save her future.
Peyton has it all figured out. She has a soccer career she's chasing, her high school sweetheart who's been her rock through it all, and a life that has seen its hardships. Until one night when her world gets turned upside down and she loses everything. Her boyfriend becomes her ex because he's turned into someone she doesn't know, she's not in a state of not being able to run therefore her soccer career is ending right before her eyes (or so she thinks) and now she has to move to a small town that she has no want to be in.
Kami Garcia is one of my favorite authors – I will tell you that time and time again. And every time I tell you that it'll be because of her most recent characters. But let's get the facts straight. Broken Beautiful Hearts is by far my favorite Garcia novel. It's pure and honest with a hint of real life. Garcia writes from personal experience and that brings this story to life in a way that will make readers stop and think, and hopefully if they're in the same situations as Peyton it'll make them realize the strength that they, themselves, have to overcome their obstacles.
You will fall in love with Owen the second you meet him, you'll worry for Peyton because of her situation with Reed but you'll soon realize that Owen – although some characteristics are the same, is not the bad boy that Peyton has him painted to be.
While at the core this story is a Contemporary Romance I more so see this story as one that teaches readers that even though things look grim in the moment there's always a bright light at the end of the tunnel. You are stronger than even you know, and you are capable of things you haven't even tried yet. Peyton is the girl who we've all wished we could be – but with Garcia's writing it's evident that we are the girl that Peyton is, even better we are ourselves.
---
Owen's Fight Day Playlist
1. Last Resort by Papa Roach
2. Remember the Name by Fort Minor
3. Till I Collapse by feat. Nate Dog (Eminem)
4. Lose Yourself by Eminem
5. Mama Said Knock You Out by LL Cool J
6. Numb/Encore by Jay Z & Linkin Park
7. Bulls on Parade by Rage Against the Machine
7. Eye of the Tiger by Survivor
9. Enter Sandman by Metallica
10. The Training Montage from Rocky
11. Bawitdaba by Kid Rock
12. Started From the Bottom by Drake
---
Kami Garcia is a #1
New York Times
–bestselling and Bram Stoker–nominated author and the coauthor of the Beautiful Creatures and Dangerous Creatures novels. Her solo series, the Legion, includes the instant New York Times bestseller
Unbreakable
and its sequel,
Unmarked
. Kami is also the author of
The X-Files Origins: Agent of Chaos
and
The Lovely Reckless
.
Kami was a teacher for seventeen years and coauthored her first novel on a dare from seven of her students. If she isn't busy watching
Supernatural
, Kami can teach you how to escape from a pair of handcuffs or bake a Coca-Cola cake. Kami lives in Maryland with her family and their dogs, Spike and Oz.