---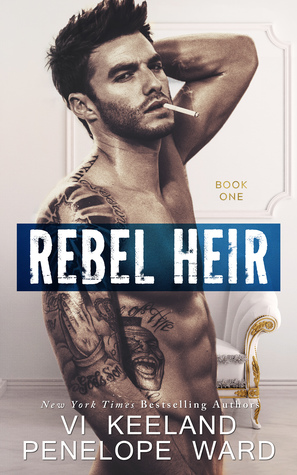 REBEL HEIR
Rush Series Duet #1
Author: Vi Keeland | Penelope Ward
Reading Level: New Adult
Genre: Contemporary Romance
Released: April 9, 2018
How to kick off a great summer in the Hamptons:

Snag a gorgeous rental on the beach. Check.

Get a job at a trendy summer haunt. Check.

How to screw up a great summer in the Hamptons:

Fall for the one guy with a dark leather jacket, scruff on his face, and intense eyes that doesn't fit in with the rest of the tony looking crowd. A guy you can't have when you'll be leaving at the end of the season.

Check. Check. Check.

I should add—especially when the guy is your sexy, tattooed God of a boss.

Especially when he not only owns your place of employment but inherited half of the town.

Especially when he's mean to you.

Or so I thought.

Until one night when he demanded I get in his car so he could drive me home because he didn't want me walking in the dark.

That was sort of how it all started with Rush.

And then little by little, some of the walls of this hardass man started to come down.

I never expected that the two of us, seemingly opposites from the outside, would grow so close.

I wasn't supposed to fall for the rebel heir, especially when he made it clear he didn't want to cross the line with me.

As the temperature turned cooler, the nights became hotter. My summer became a lot more interesting—and complicated.

All good things must come to an end, right?

Except our ending was one I didn't see coming.

Rebel Heir is the first book in the Rush Series Duet. Book Two, Rebel Heart, will release six weeks later on May, 22, 2018.
ANNNNNNNNNNND My favorite duo has done it again. I don't think I've ever rated them less than 4.5 stars because I am NEVERRRR left disappointed. They are geniuses when they write they own stories but, legit, when they come together to tell a story, it's next level, unicorn, magical stuff. I'm going to be honest, I usually don't like starting a series or duet before the series is finished because I have no patience or willpower to hold out but, for these authors, I don't care what it is, I'll read it.
I went into this story completely blind, didn't pay attention to any details, blurbs, reviews, I just dove right in. This is my favorite way to read a book. Not knowing anything. So our hero, Rush is kind of a douche, at first. He's the owner of many things but most importantly he's the owner of a bar called "The Heights". Our heroine is an author, vacationing in the Hampton's to focus on writing her book. Her bff asks her to work her shift at "The Heights", so the loyal bestie comes through. Gia, however, was not expecting to meet the sexy, intimidating boss that night.
I loved everything about this book. I love how sexy Rush is and how he starts to show different sides of himself the more we get to know him. I love how sassy and "take NOOOO shit", Gia is. That is my favorite type of heroine. Always will be. I am rating this book 5 trees because I read it in one day, could not put it down. I cannot wait for book two to come out. Go read this book!!