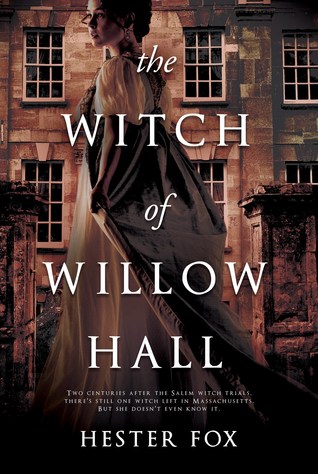 About The Witch of Willow Hall:
For fans of The Rules of Magic by Alice Hoffman, A Secret of Witches by Louisa Morgan and The Haunting of Maddie Clare by Simone St.James comes an addictive historical debut about strange power, fierce love, family secrets, and how the past haunts us in ways that demand to be seen.




When a scandal sends the affluent Montroses fleeing from their home in Boston and into rural seclusion at the stately Willow Hall, daughter Lydia resents the move. Especially when it becomes obvious that Willow Hall hides dark secrets that no one in the Montrose family anticipated. And when tragedy strikes, the sinister presence lurking in the house and its surrounding woods starts encroaching on the Montrose's lives. Summoning powers she barely understands, Lydia must engage the forces around her to keep her family safe, while protecting the blossoming love she has with her father's handsome business partner, John—who has secrets of his own.
"Hester Fox's THE WITCH OF WILLOW HALL offers a fascinating location, a great plot with history and twists, and characters that live and breathe. I love the novel, and will be looking forward to all new works by this talented author!"
--Heather Graham, New York Times bestselling author
"Beautifully written, skillfully plotted, and filled with quiet terror, readers will devour this absorbing, Gothic tale of romance and suspense. Perfect for fans of Simone St James and Kate Morton."
-- Anna Lee Huber, the national bestselling author of the historical Lady Darby Mysteries
"Beautifully written, with an intriguing plot full of suspense and mystery, The Witch of Willow Hall will cast a spell over every reader."
-- Lisa Hall, author of Tell Me No Lies and Between You and Me
"I was entranced by this intriguing and spellbinding novel with its messages of love and loyalty and being true to who you really are. I hope Hester Fox goes on to write many more such novels--I for one will be buying them."
-- Kathleen McGurl, author of The Girl from Ballymor
"With its sense of creeping menace and chilling undertones, this compelling story had me gripped from the first page. The vividly drawn characters cast their spell so convincingly, I couldn't stop reading until I discovered what happened to them. A wonderful debut novel."
--Linda Finlay, author of The Flower Seller
About Hester Fox:
When not writing, Hester works in the museum field as a collections maintenance technician. This job has taken her from historic houses to fine art museums, where she has the privilege of cleaning and caring for collections that range from paintings by old masters, to ancient artifacts, to early American furniture. She has a master's degree in historical archaeology, as well as a background in Medieval studies and art history. Hester lives outside of Boston with her husband.
Title:
The Witch of Willow Hall
Author:
Hester Fox
Genre:
Fiction, Historical, Mystery, Fantasy
Imprint:
Graydon House
Pages:
384
On-sale date:
October 2, 2018
Format & pricing:
Trade paperback (15.99 U.S. / 19.99 CND), ebook ($9.99 U.S / $9.99 CND)
ISBN:
9781525833014