---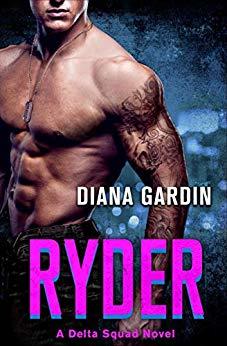 RYDER
Delta Squad #2
Author: Diana Gardin
Reading Level: New Adult
Genre: Contemporary Romance
Released: February 12, 2019
Review Source: Forever Yours
This Navy SEAL is putting his life - and heart - on the line to protect a woman on the run, but her dangerous secret threatens to destroy them both in this high-octane novel that proves.

I'm a Navy SEAL and a member of the elite Night Eagle Security team, so you better believe I take every one of my missions seriously. But this one is different. I'm protecting Frannie - she's beautiful, fiercely independent, and on the run from her criminal ex-husband. I know he's dangerous, that he'll do anything to get Frannie back. But there's no way I'll ever let that happen...

Trouble is, I can tell Frannie is hiding something from me. Something big. Since she barely got away from her ex alive, I understand that she's wary, but I can't help her if she doesn't let me in. And no matter how badly I want a future with her, I swore I'd never allow myself to be with someone who doesn't trust me. But when Frannie's secret comes out, I have to decide whether her betrayal is enough to make me walk away...or if I'll protect the woman I love no matter the cost.
Diana Gardin does it again. I read this book in one sitting because I could no put it down. I had to know what happened. I was not prepared for the emotions I would feel and the journey that I would be taken on with this book.
I love Diana's writing so much! Ryder is my favorite book she has written to date. I connected to Frannie more than any other of her characters. She goes from being a victim, to a bad ass, strong, a little stubborn, female. I love her so much and would definitely want her as a best friend.
Where to start with Ryder.... He is sooooo well written and complex. He is the sexiest, strongest, yummiest alphas I have read this year. The two together are nuclear. Just the right amount of tension.
I highly recommend this book and this series, you won't want it to end and you'll be begging for the next book. I'm rating it 4.5 stars because this book was outstanding!!!
PURCHASE LINKS
Add RYDER to your TBR:
https://www.goodreads.com/book/show/40503059-ryder
Amazon US➜
https://goo.gl/J4Tiih
Amazon UK➜
https://goo.gl/SxEKmJ
Amazon CA➜
https://goo.gl/ZcFSNT
Apple➜
https://goo.gl/igX97z
Nook➜
https://goo.gl/Di4YA5
Kobo➜
https://goo.gl/Ht2SsA