---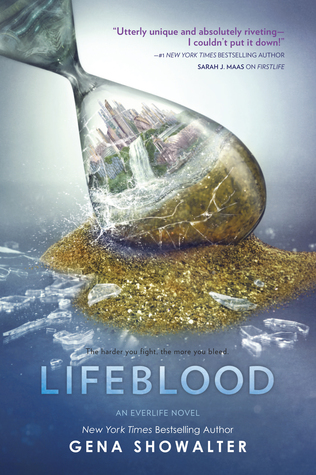 Lifeblood #2
Everlife #2
Author:
Gena Showalter
Reading Level: Young Adult
Genre: Fantasy
Released: 28th February 2017
Review Source: Bought
'My Firstlife is over, but my Everlife is only now beginning.'

With her last living breath, Tenley "Ten" Lockwood made her choice and picked her realm in the Everlife. Now, as the war between Troika and Myriad rages, she must face the consequences.

Because Ten possesses a rare supernatural ability to absorb and share light, the Powers That Be have the highest expectations for her future—and the enemy wants her neutralized. Fighting to save her Secondlife, she must learn about her realm from the ground up while launching her first mission: convincing a select group of humans to join her side before they die. No pressure, right?

But Ten's competition is Killian, the boy she can't forget—the one who gave up everything for her happiness. He has only one shot at redemption: beating Ten at a game she's never even played. As their throw-downs heat up, so do their undeniable feelings, and soon, Ten will have to make another choice. Love…or victory.
The end of
Firstlife
brought Tenley's Everlife. With dying breaths she announced her eternal loyalties to Troika, the realm of the light. Tenley is happy with her choice--she knows she's chosen the right side, even if made her enemies with a unforgettable young man. Killian is a Myriad, belonging the realm of darkness and Killian is out of reach. Their blossoming relationship ripped away from them both when Tenley chose the other side of the battle.
The pending romance between Ten and Killian is confusing but very intriguing. How can they possibly progress with any relationship on opposite sides of the war? Was their romantic connection authentic or was it all the role Killian played for his job? It's a love story that was doomed before it even started. Forbidden romance at its finest.
The energy and drama became more dominant in
Lifeblood
, the war bubbling at the surface. Not only does Tenley belong to the realm of the light but she harbours a rare ability to absorb and share light--something that could destroy Myriad and lead Troika to victory. For someone so young with the mental maturity of a typical teenager, she's got the fate of the world on her shoulders. Literally.
Lifeblood
was an emotional rollercoaster. It brought out the ugly cry (I'm still not over it). With the raging war nobody is safe. Friends turn to enemies and Tenley doesn't know who's fighting the good cause and those who are plotting her downfall.
Lifeblood
was an excellent edition to the series.
Firstlife
was the start--the introduction to the world and Tenley's crazy life but
Lifeblood
built up the drama and emotions and here we got to know the characters and begin to love them. Every plot twist, betrayal and unexpected moments was like a personal shot to the heart. I enjoyed every minute of reading.